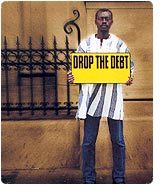 Drop The Debt: A CD for Canceling "Third World" Debt

Featuring Original Music by Cesaria Evora, Chico Cesar, Oliver Mtukudzi, Lenine



Debt kills. Each year, a lack of even basic medical treatment kills thousands of people in Africa, Asia, and Latin America because their governments, bled white by debt-servicing requirements, are unable to fund health programs. According to the United Nations Programme for Development, many countries spend a greater proportion of their budget on debt repayment than they allocate to education, health, and other social services. In 2001, UN Secretary General Kofi Annan announced that 38% of the budget of African countries was devoted to debt servicing. This figure alone shows how the vital needs of populations are being sacrificed to truncated economic rules.

Drop the Debt, to be released by World Village (Harmonia Mundi) on August 12, 2003, raises awareness and funds for an international effort to cancel the debt that burdens the development of "developing nations." Three quarters of the 16-track CD are original compositions written specifically for the album. The rest are original versions of existing material, making the entire album original, unlike so many compilations issued these days.

Several artists featured on the album have made huge names for themselves in the world music scene in recent years, including Cape Verde's Cesaria Evora, Brazil's Chico Cesar and Lenine, Zimbabwe's Oliver Mtukudzi, Cameroon's Sally Nyolo, Columbia's Totó La Momposina, and Venezuela's Soledad Bravo. "They all agreed to be on the CD immediately, because they all feel directly concerned by the debt issue," explains François Mauger, who produced the fundraising album in spare time from his day job running Lusafrica, the label responsible for rocketing the careers of Cesaria Evora and Sally Nyolo.

So where does this debt come from? It is mainly the result of loans granted in the '60s and '70s, often to regimes without democratic legitimacy. What can be said about the predicament of Haiti, forced to repay sums embezzled by its former dictators, the Duvalier family, now living a life of luxury in Europe with their embezzled millions? And what about South Africa, obliged to repay loans made to the former apartheid regime, enabling it to arm its racist system? Adding insult to injury, the debt has already been largely repaid. Twenty years ago, public foreign debt in developing countries stood at $600 billion. Since then, these nations have repaid $4,500 billion. Yet today, their debt has reached $2,450 billion, mainly due to new loans taken out to pay the interest on existing ones.

Yet the partial or complete cancellation of a State's public foreign debt is possible. There are precedents: Cuba in 1898, Costa Rica in 1923, Germany in 1953, etc. So the cancellation of third world debt is simply a question of political will and depends on the commitment of citizens in Europe, Africa, America, Asia and Oceania. And artists can sometimes encourage or maintain this commitment.

"No more school for our children. No more care for our sick. We even say we'll never be able to pay it back. That it's planned that way," goes El Hadj N'Diaye's song. "I owe, I don't deny it. I don't pay when I can't. You only gave me ten, and you want a hundred back," sings Chico Cesar. Sally Nyolo carries a similar theme: "…Lord, forgive us our debts as we forgive those in debt to us."

In each country where Drop the Debt is being released, there is a partnering organization involved in debt cancellation. In the United States, the partner is Jubilee USA, whose website offers deep insight into the history of world debt and debt relief, as well as concrete actions supporters of debt relief can take.

Although battles are not won by singing, campaigners sometimes win them with a song on their lips. Drop the Debt intends to inspire all citizens who hear it to ask the questions needed to change world debt policy.