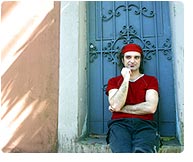 Street Sounds, Afro-Brazilian Ritual, and the Spirit of a Warrior Tribe

Ramiro Musotto, the Shaman of Berimbau and Mystical Electronica, Debuts on Sudaka



Imagine window-shopping on the streets of Sao Paulo, browsing through the collected crafts of an entire region, Amazonian headdresses, and the latest in… computer software. These two seemingly opposite worlds collide on Sudaka—a manifestation of ancestral ingredients and digitized definition courtesy of noted Brazilian percussionist, programmer, and producer Ramiro Musotto.

This debut release—which will be issued by Fast Horse Recordings on October 21, 2003—is a gathering between field recordings of an Amazon Indian chant, Afro-Brazilian Candomblé spirit rituals, the call of an Argentinean urban street vendor, and Musotto's own urbanized and intuitive electronic beats. Using the skills he honed as a percussionist for Brazilian standouts Caetano Veloso, Gilberto Gil, Marisa Monte, Sergio Mendes, and Carlinhos Brown, Musotto set out to fuse the musical origins of the region with his own keen passion for electronica. Musotto hopes to prove that two conflicting cultural ideals can exist in harmony and benefit beyond. He calls it "a psychedelic trip throughout and into the Afro-Brazilian and South American culture; an optimistic way of interpreting the effects of technology in our everyday life and art."

On "Botellero," we hear the call of the a local "Bottle Man," whose daily routine is gathering old bottles, magazines, newspapers, doors, beds and anything else that can be cleaned up and resold. Musotto recorded the sample on the streets of his North Patagonia home of Bahia Blanca, Argentina, capturing the botellero's call as he made the rounds of local streets in his horse-drawn cart. The botellero uses a cheap microphone and old speaker to project his voice through the streets and into the homes of prospective buyers.

The track "Xavantes" is inspired by a warrior tribe of the same name known to have resisted European colonizers until 1940. "This fantastic field recording was not done by me, but by the Indians themselves," explains Musotto. "Their incredible music fascinated me, and when I found this rare recording, I spent two years working on the track. When I contacted the tribe, they asked me to personally show the result of my work to a chief that lives in Sao Paulo. He loved it, but it took over a month to get the blessing of the tribe's most important chiefs and spiritual leaders."

The spirit of the Afro-Brazilian cult of Candomblé is featured notably on "Bayaka" and "Ijexa." Candomblé ritual calls for spirits to enter the body and induce a state of trance. Once this state of mind is achieved participants change into a colorful display of clothes to represent a higher connection with the spirits. The city of Salvador in the region of Bahia is a religious center of Candomblé and was Musotto's home for twelve years. During this period he learned the complex, African-tinged rhythms.

On "La Danza del Tezcatlipoca Rojo," a live crowd is entranced by Musotto's trademark playing of the berimbau—a percussion bow with origins in Africa and traditionally used in the Brazilian dance-martial art called capoeira.

A lifelong student of musical styles, Musotto has kept the pulse for Latin American folk music, carnival samba, Brazilian pop, and, as a young man, behind a drum kit for a punk band. Venturing beyond the ethnic field recordings and electronic sequencing Musotto also includes a wealth of other samples drawn from unique percussion and other organic sounds. Musotto's beat structure is as diverse and far-reaching as the music layered underneath.

Sudaka's USA release is coincides with the debut self-titled CD by Mylene, a singer from Rio de Janeiro, produced by Musotto as well. Musotto's hypnotic production style—combining street smarts and futuristic beats with ancient sensibility—is the perfect mesh for Mylene's back-to-the-future lyricism. Featuring an exotic blend of traditional Samba and Bossa Nova, mixed with Folkloric and modern electronic styles, Mylene dances and entrances with the soul of Brazil itself.

The two albums by Mylene and Ramiro Musotto find a home on Fast Horse Recordings, which is best known for its releases of Tuatara. Featuring members as diverse as Peter Buck and Scott McCaughey of REM, Barrett Martin formerly of the Screaming Trees, Justin Harwood formerly of Luna, Steve Berlin of Los Lobos, and renowned jazz/experimental saxophonist Skerik, Tuatara has carved out a wide path in the realm of modern, instrumental composition. Their latest recording, The Loading Program, features Tuatara remixes by DJ Spooky, DJ Logic, DJ Wally, Spearhead's Michael Franti, producer Eric Rosse, and New Zealand's Mr. Reliable. The album plays out as a perfect blend between the organic, live instrumentation of Tuatara, and the electronic wizardry of these top producer/DJs.