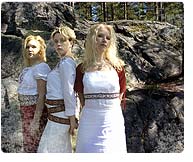 Stars of Finland

Värttinä Celebrates Their Twentieth Anniversary with new CD and American Tour



Top Finnish contemporary folk music 9-piece combo Värttinä, featuring the dynamic female vocal trio front line, returns to North America, after six previous tours including their last New York appearance at Central Park Summer Stage in 1999 and the last US appearance at Nordic Roots Festival, Minneapolis in 2001.



Värttinä celebrates their 20th Anniversary this year with the release of their 10th album entitled iki, published in North America by NorthSide. The album iki is receiving rave critics and was picked as one of the "Top 50 World Music Albums You Must Own" by Songlines magazine of UK, as well as ranking in the top ten of their "Top of the World" picks (issue 18 ). Stateside, iki reached number 6 in the CMJ World Music Charts and Värttinä was named one of the world's "Top 40 Most Exciting and Soulful Artists of 2003" by Utne magazine of USA, alongside singer Tom Waits and director Julie Taymor.

On the touring front, Värttinä had another busy year in Europe, one highlight being the headline slot for 12,000 people at Sziget Festival Budapest World Music Stage, their second time to hold that position and third time at that festival.

Värttinä have been breaking new ground for Finnish folk music since the 1980s. The band combines traditional Finnish singing with contemporary arrangements, intense vocal harmonies, and a melodic sensibility.

Värttinä (meaning spindle) has its origins in 1983, as the project of singers and kantele players Sari and Mari Kaasinen. The original Värttinä line-up--15 young girls singing and playing kantele plus six young men accompanying them--made two recordings: Värttinä (1987) and Musta Lindu (1989).

Beginning in 1991, Värttinä took a startling new direction: five effervescent young women bursting with vocal energy, fueled by a powerhouse acoustic band. The group's repertoire diversified, borrowing tunes, poems, songs and ideas from women's singing traditions of Finland and other Baltic regions. New, original compositions and lyrics from group members provided new dimensions and showed that Värttinä had risen to a new level of sophistication. In performance, the focus shifted to a more "rock/pop" approach, presenting Finno-Ugric musical tradition in ways never before conceived. The female voices, having matured greatly since the early days, were the forefront of the group's sound and the band delivered rousing acoustic accompaniment.

From 1991 to 1994 the band became a household name in the World Music community, and toured internationally. This period produced three albums, now on NorthSide.

Since that time Värttina have gone on to greater success, releasing Kokko (Nonesuch, 1997), Vihma (BMG, 1998), Ilmatar and Live In Helsinki (both NorthSide).