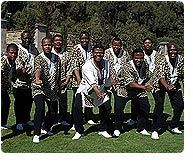 A Tale of the Pope, the Queen, Baked Beans, Lifesavers, and Dolly Parton:

Ladysmith Black Mambazo Survives Tragedy and Raises Your Spirit Higher
Purchase CD here.


Ladysmith Black Mambazo is back! The group's February 2004 tour was a smashing success with sold out venues across the country. Their latest release, Raise Your Spirit Higher—Wenyukela (HUCD 3083), was released on Heads Up International in time for the current ten-year anniversary of the end of apartheid. The CD spent three weeks at number one on the Billboard World Music Chart, and also graced Bilboard's Gospel, Heatseekers, and Indie Charts. With the second leg of their 2004 tour in June and July, expect them to return to those charts and into the hearts of more and more North Americans.
If you missed the heavenly chorus that defined Paul Simon's landmark Graceland album, maybe you caught them on TV. There were the appearances on Sesame Street, Michael Jackson's "Moonwalker" video, a 7-Up commercial, and, in the UK, a Heinz Baked Beans ad so popular it led to a million-unit selling album there. But it was the Lifesaver's commercial that caught the attention of Dolly Parton sparking her to invite Ladysmith Black Mambazo to guest on her album Treasures on the song "Peace Train."
What other group has performed at two Nobel Peace Prize Ceremonies, for the Pope in Rome, in South Africa's presidential inaugurations, at the Olympics, and during the Queen Elizabeth II's 50th Anniversary as Monarch with Eric Clapton, Rod Stewart, Joe Cocker, Phil Collins, and Sir Paul McCartney? Who would have ever thought this ensemble, whose freedom was denied under the apartheid regime only a decade ago, would gain such notoriety?
In English, the word Wenyukela means "raise your spirit higher," but the language of Shabalala's stirring and richly layered vocal compositions are universal. Raise Your Spirit Higher is Ladysmith's message of hope and unity to a troubled world.
Against a backdrop of political upheaval and personal tragedy, Joseph Shabalala and the ten-member vocal group—now including four of his sons—have spent three decades fusing the disparate but spiritually resonant traditions of Zulu and Christian gospel music. They harness the unifying power of music to transcend the dim places and raise their spirits higher. As survivors of South African apartheid, the group's Raise Your Spirit Higher reiterates this message from Ladysmith's earliest days while addressing many of the struggles that persist around the world.
And while the music is clearly rooted in African musical traditions, the message speaks to all people whose ears and hearts are open, says Shabalala, a native of South Africa's Zulu people who converted to Christianity around the time of his musical awakening in the late 1950s and early '60s. To this day he is an active minister in a township outside of Durban, where he gives sermons in Zulu. "Without hearing the lyrics, this music gets into the blood, because it comes from the blood," he says. "It invokes enthusiasm and excitement, regardless of what you follow spiritually."
Shabalala's spirituality underwent the supreme test during the making of this record. In the spring of 2002, his wife of thirty years was murdered in a church parking lot by a masked gunman. To date, no conviction has been made. Despite the overwhelming grief that inevitably follows such a profound loss, Shabalala chose the spiritual high road and has remained on it since. He keeps Nellie's memory and spirit alive in his heart and music, and his faith remains unshaken. "At the time that this happened, I tried to take my mind deep into the spirit, because I know the truth is there," he says. "In my flesh, I might be angry, I might cry, I might suspect somebody. But when I took my mind into the spirit, the spirit told me to be calm and not to worry. Bad things happen, and the only thing to do is to raise your spirit higher."
He had help from his teenage grandsons, who express their love and support in "Tribute," a short but moving hip-hop track that closes out Raise Your Spirit Higher. On the track, they urge their grandfather to be strong and not worry, because their grandmother is in a better and happier place.
Eternally optimistic, Shabalala is confident that his perseverance in the face of personal tragedy is a powerful sign for the world to heed: "When the world looks at you and finds the tears in your eyes, but you smile in spite of the tears, then they discover that, 'Oh, he's right when he says you must be strong, because many things have happened to him, and he still carries on with the spirit of the music.'"
Raise Your Spirit Higher—Wenyukela is the latest recording in the Heads Up Africa series, celebrating cross-cultural exchange between Africa and America.

Purchase CD here.