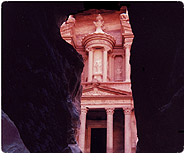 Making the World High on Life, Music, and Global Culture
The Origins of Satalla—Music from Around the Globe
"From the time I was a child, I always wanted to go to Petra, the mythical, ancient city in Jordan carved directly into multicolored sandstone," says Michael Yaacobi, the founder of Satalla, a new club showcasing music from around the globe which opened in New York City's Chelsea neighborhood last summer. As an Israeli, he was unable to visit Petra until the 1999 peace treaty was signed with Jordan. "The only way to get to this hidden city is a thirty minute walk through a narrow, red canyon with very little sunlight," Yaacobi explains. "When I first saw the temple, I was truly amazed. The long walk was dark and then suddenly you see this brightly lit temple with beautiful colors. This unique experience, of being transported from one world—everyday life—to another world—dreamlike—is something that I wanted to re-create when entering Satalla."
Yaacobi came to the United States in 1985 because he wanted to experience new things. "I wanted to change my life," continues Yaacobi. "Israel is a very small country with a lot of turmoil. I wanted to move to New York City because so many different things and cultures can be experienced right here."
Upon his arrival to America, Yaacobi ran a construction company and later opened bagel stores. But he still yearned for something different.
"I was always looking to open a café," says Yaacobi. "It's very laid back in Israel. Every morning at nine or ten o'clock I would meet friends at a café for coffee and cake. And again at five o'clock with my daughter. I missed that type of atmosphere here in New York."
Yaacobi didn't want to open another Starbucks. So in 1995, he opened Kavehaz, one of the first coffee houses in New York to serve coffee with wait staff. "I'm a very flexible person," Yaacobi explains about the evolution of the café. "I'm very open to change and I'm always looking at how to improve things. So Just before Kavehaz opened I noticed that something was missing. The walls were bare so I added an art gallery within Kavehaz. Then I said I'm missing something else: music. So I started to offer live jazz. We went from live music one night, to three nights, to every night. There was never a cover charge, which was new for New York too."
Kavehaz was originally in Soho and for eight years it was a very successful coffee house, art gallery, and jazz club. But Yaacobi still yearned for something else: a place where people from all cultures could come to listen to music from around the globe. "I always liked world music. In Israel, because we are in the middle of Europe, Asia, and Africa, there were always many different styles of music to listen to. At the time, there were only two radio stations in Israel, one playing classical music and the other offering music from a different country each hour. When you grow up listening to this kind of music, you learn to really appreciate it. It was always my dream to have a place where all types of music could be offered and with this idea, Satalla was born."
Yaacobi named his new club Satalla: Music From Around the Globe to emphasize the type of experience he wanted people to have there. Upon entering he wanted to evoke the feeling he had when arriving in Petra. And certainly the much-talked-about decor of the club brings you into another world. The word satalla means "high on life" and is an Arabic term that has been adopted by Israelis as well. Yaacobi's usage is "to be high on music" giving the club both a positive mystical vibe and a cross-cultural one.
"I have been to places in the world where, as an immigrant, you are always an outsider," Yaacobi says. "But here we are in a city of immigrants, in a country of immigrants, where nobody can be an outsider. I want this club to be a meeting place of everyone. A place where we cut through the barriers and enjoy the whole planet's music together.