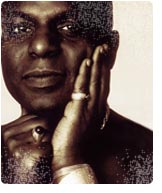 Beware the Wrath of Ancient Nubian Deities
Master Drummer Mahmoud Fadl Ignites the Spirits of the "Black Pharaohs"
As a child, drummer Mahmoud Fadl was forced to leave his homeland of Nubia, located in what is now known as southern Egypt and northern Sudan. This region has one of the most unforgiving climates in the world. The temperatures are high year-round and rainfall is rare. But the Nubian people—whose legacy can be traced as early as 3100 B.C., predating the first pharaohs of Egypt—lived comfortably along the narrow banks of the Nile. Until 1963.

That was the year that Nubian life was sold upstream for hydroelectric power, the year when authorities drowned old Nubia and countless Nubian monuments and ancient historical sites in Lake Nasser, the largest artificial lake in the world. Fadl and 100,000 of his fellow Nubians were promised the world in exchange for their land, but only one promise was ever kept: the new village had the same name as the old.
Fadl's days of sailing down the Nile or watching the girls bathe along the bank were taken away from him—in exchange for the desert. "But though that land is gone," says Fadl, "the spirit has lingered, igniting a cult among Black people the world over." Indeed, the great Nubian civilization has brought inspiration to places as far away as the hip-hop scene in the USA.
Mahmoud Fadl releases the third part of his "Drummers of the Nile," CD series on March 9th 2004 (Piranha). After their southbound journey they are back in town, as strong as ever. Fadl takes a walk down Cairo's Mohamed 'Ali Street, the notorious musicians' hang out, where he meets up with master drummers Mohammed "Kallo" Sobhi and Magdi Berbish, the Khalil family (flagship of Said musicianship) and the legendary Hasaballah Brass Band, the one and only brass band in Egypt.