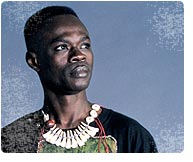 Empowerment and Enlightenment from the River Senegal:
Baaba Maal's Acoustic Ensemble Tours North America in March and April
Senegalese master musician Baaba Maal is a pillar of the African music world. For over ten years, he has been creating magical compositions ranging from the purest traditional sounds to exciting, innovative fusion. In March and April 2004 Baaba will bring his unique sound to American and Canadian stages on a 34-date tour, beginning in Los Angeles and stretching as far as New Hampshire, Texas, Montreal and Hawaii. The tour will feature the acoustic ensemble from his latest release Missing You… Mi Yeewni (Palm Pictures).
Missing You is a virtual aural odyssey that transports listeners to rural Africa. Recorded mostly after dark in the open air of Mbunk, Senegal, with the assistance of producer John Leckie (Radiohead and The Stone Roses), the result is a masterpiece that captures "Acoustic Africa." Baaba skillfully interweaves his guitar and vocals with the sounds of village nightlife to create compelling tales of African life. His politically conscious lyrics range from an ancient cry for African unity to a progressive critique of the traditional family structure.
Baaba's previous two releases Firin' in Fouta and Nomad Soul earned critical acclaim worldwide and reinforced his role as a seminal artist in the world music arena. With constant touring he has honed and enriched an already phenomenal stage show. Touring nearly every continent, the overwhelming response has been utter awe.
Baaba is more than just a remarkable musician—he's a musician with a social conscience. Baaba represents the United Nations Development Program as a UNDP Youth Emissary and he's a spokesman on the issue of HIV/Aids in Africa. He has been a featured performer on fundraising projects for the HIV/Aids awareness group The Red Hot Organization. Releases include Red Hot and Rhapsody, a tribute to Gershwin, and Red Hot and Riot, a tribute to Fela Kuti.
Music was an integral part of Baaba's childhood on the banks of the river Senegal. Born to the Hal Pulaar people (known to the English speaking world as Fulani), his mother used her original songs to educate young Baaba. She instilled in him the value of intelligent and thoughtful lyrics, and encouraged him to pursue music even though he was not born a griot—the traditional caste of musicians. Thanks to experience, travel, and education, Baaba has developed a profound self-awareness, allowing him to deliver the message of empowerment, enlightenment, and peace.
Baaba began his formal education in St. Louis (the original French colonial capital), but soon won an art scholarship in Senegal's modern capital, Dakar. There he joined Asly Fouta, a group of seventy musicians, and began studying local instruments. He later embarked on an extensive tour of West Africa with longtime friend, Mansour Seck. They traveled from village to village, interviewing the oldest person in each location about the history of the village, the country, and the music. Baaba completed his studies at the Conservatoire des Beaux Arts in Paris before returning to Senegal, where he formed his band Daande Lenol, "Voice Of The People."
Exposure to Black American singers of the 1960's such as James Brown, Otis Redding, and Wilson Pickett complemented Baaba's extensive knowledge of traditional African music. He later discovered Jamaican musicians such as Toots Hibbert, Bob Marley, and Jimmy Cliff when they toured Senegal in the mid 1970's, which further influenced and diversified his expressive sound.
Using his music as a vehicle to express his concerns and empower his people, Baaba Maal sings and speaks for Africa with unprecedented authority.