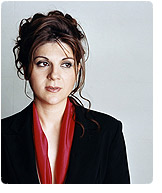 The New Moon that Shines over Buenos Aires Heads to the Grammys

Sandra Luna—Modern Spokeswoman of Tango Canción—On Tour
"Cinders that burn again and again… tango is like life, and has to evolve," says singer Sandra Luna, paraphrasing famous tango lyricist Horacio Ferrer. As you read this, Luna has been nominated for a Grammy for the Best Traditional World Music Album and is launching a tour that will bridge her visit to the Grammy ceremony and her showcase at the Folk Alliance/Strictly Mundial conference in Montreal.

On her first international release Tango Varón, Times Square Records, Luna turns her ear to the future while keeping one foot firmly in the tango's colorful past. On her Grammy-nominated album she expands tango music, normally associated with dancing, to a broader more expansive song form. Tango Varón features reenergized versions of tango classics from legends like Homero Manzi and Astor Piazzolla, to newly created tango compositions that tell the tale of contemporary life in Buenos Aires.

In 1966, long after the peak of tango's popularity, Sandra Luna was born in Buenos Aires' slaughterhouse district of Mataderos. This amalgam of cultures in the lower class port neighborhoods—European immigrants, Criollos, Blacks, and Indigenous people—first nurtured the rise of tango in the early 1900s, and later with Astor Piazzolla pushing the limits of tango's form, Luna was raised in a revitalized era of tango in Argentina. By age eleven she was performing in local tango bars like the Boliche de Rotundo.

Tango is known to be provocative, flashy, unwavering, and has been described by one observer as a 'vertical expression of horizontal desire.' Born in the bars and brothels of Buenos Aires in the early 1900s, an era when men outnumbered women by 100,000 in the city of Buenos Aires, the culture of overt masculinity, prostitution, and violence opened the way for this form of dance. The passion of music and dance has rarely been more indicative of a social climate than that of Argentina's tango. In recent years, there have been a few women who have flipped the traditional gender roles of tango, putting a strong female voice at the fore of the style. "Renovation of tango-canción, the sung tango of Buenos Aires, has long been overdue, and Sandra does the job superbly," says Jan Fairly in the recent issue of the U.K.'s Songlines magazine. "With her strong personably modern voice, she redefines the genre and makes a marked gender shift."

In the marginal culture of the Argentinean ghettos, it was the possessive yearning of a man for a woman that brought tango to life. This repute infected the youth of Argentina and the world, who learned the dance despite the disapproval of their aristocratic parents, who feared tango saucy lyrics and association with bordellos. By the late 1940s and early 1950s, while there were hundreds of small tango ensembles, only a handful of professional tango orchestras filled the nightspots in Buenos Aires. Tango was losing a pop culture battle to rock'n'roll, but experienced a renaissance in the 1960s as Astor Piazzolla's Quinteto Tango Nuevo invigorated the genre with a new sense of form and experimentation. Tango swept over Europe and was ironically adopted by Argentine upper-class intellectuals. Sandra's exposure to the progressive forms of Piazzolla, and a voice that recalls the timeless grace of her forbears and her birth in the barrio, is the perfect formula to take tango to a new generation.

Tango Varón balances a strong repertoire of traditional tango standards, with newly written compositions that speak from modern life in Buenos Aires. From the highly percussive approach of "Me Llaman Luna" to the more traditional and ornate bandoneón and strings on "Que Nadie Sepa Mu Sufrir," Luna displays her talent and ability to work above a wide variety of textures. On "Carritos Cartoneros," she tells the modern tale of a homeless vagabond who came to Buenos Aires with the promise of a first world life, only to scour the streets for bottles and cans to earn what little money they can. The proud, machismo male is at the core of tango's image, but Sandra is not afraid to challenge this assumption head on. The title track "Tango Varón" recalls the origin of 'male tango' in Buenos Aires, but her insistent performance injects the track with the unique passion of a confident woman.