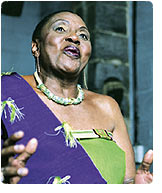 Reflections of Exile, Black Panthers, and Mama Africa
How Miriam Makeba Wins the Heart of America Again

Not long after Miriam Makeba's career began fifty years ago, her powerful voice secured her the female principal in the South Africa's Broadway-inspired musical King Kong. She went on to capture the collective heart of America, singing for President Kennedy at his 1959 birthday and working in New York with Harry Belafonte penning such hits as "Pata Pata and "The Click Song." Both songs along with eleven other Makeba classics are featured on her first new release in four years, Reflections (HUCD 3082), issued June 22, 2004 on Heads Up International. This updated retrospective highlights new arrangements that capture Mama Africa's remarkable vocal power and artistry.
Born in 1932 in Johannesburg, this musical treasure and Grammy Award winner first came to the public's attention as a featured vocalist with a local favorite called the Manhattan Brothers. She soon left to record with her all-woman group the Skylarks while touring Southern Africa with Alf Herberts' African Jazz and Variety. This tour led to invitations to perform in Europe and then America, where Makeba came upon an emerging folk scene that was looking to Africa and Latin America for inspiration.
In 1963, after testifying about apartheid before the United Nations, the South African government revoked her citizenship. Harry Belafonte assisted Makeba in immigrating to America where the African-American community embraced her and where she found camaraderie among the likes of Nina Simone and Odetta.
The "Empress of African Song" was the first Black performer to leave South Africa because of apartheid and was the first African singer to attain global renown. She remained in the U.S. and married Black Panther leader Stokely Carmichael, but after harassment in the U.S.—including the cancellation of concerts and her RCA recording contract—they fled to Guinea, West Africa at the invitation of president Sekou Toure. Makeba returned to world prominence in 1987 when she performed with Paul Simon on the Graceland tour. In 1990, she finally returned to her homeland as a free South African.
Reflections opens with a summery version of "Iyaguduza," followed by "Pata Pata," a song that played a particularly large role in making Makeba a household name. Makeba has always enjoyed singing in other languages, and "Comme Une Symphonie D'Amour," first sung by Makeba in the early '80s, is a showcase for her extraordinary vocal range. "Mas Que Nada" and "Xica Da Silva" are bossa nova classics from the pen of Brazilian songwriter Jorge Ben.
Other highlights include an enchanting arrangement of her hit "The Click Song" and the Pan African-inspired "African Convention," written by Hugh Masekela (with whom Makeba was briefly married) and Stanley Todd. "I'm in Love with Spring," is a swinging, lushly orchestrated composition from Bill Salter, her Grammy-winning bass player in the '60s, and "Love Tastes Like Strawberries" is a pensive ballad from the same era.Miriam Makeba's Reflections (HUCD 3082), released in time to celebrate the historic ten-year anniversary of the end of apartheid, is the latest installment in the Heads Up Africa series—a critically acclaimed collection that spotlights some of Southern Africa's finest vocalists and instrumentalists.