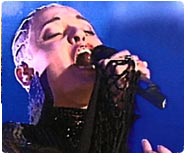 The Unity of Mariza and Sting, and Other Good Things to Come



It's been another big year for Portuguese fadista Mariza. Early this year she was awarded Portugal's Personality of the Year award, an award akin to Time's Person of the Year, from a field of illustrious nominees including Portugal's President Jorge Sampaio. Things continue to look up this year with the release of a new DVD and accompanying tour, and Mariza's duet with internationl music purveyor Sting. The duet is sure to propel Mariza to another successful release and tour.

In July, EMI records released Unity, the official pop soundtrack to the 2004 Summer Olympics in Athens, Greece. This special release features a duet between Sting and Mariza on 'A Thousand Years.' The title Unity follows the Olympic ethos of peace and friendship between different cultures, races, and religions, and aims to build awareness for peace the world over. Along with Mariza's contribution, the record of mostly collaborative efforts also featires Lenny Kravitz with Kadim Al Sahir, Alice Cooper with Xzibit, and Moby with Public Enemy.

Mariza's spellbinding live performance produced by the BBC at London's Union Chapel was captured on film and released in a new DVD title Mariza – Live in London, issued September 7, 2004 on Times Square Records. The DVD features an interview with Mariza as well as video clips of "Ogente de Minha Terra" and "Cavaleiro Monge." Mariza has been hailed for her "Powerful voice, impeccable intonation, and feel for the dramatic" by the Washington Post, while Canada's Globe and Mail says "You have to see Mariza perform to understand how physical her art really is."

On the heels of the DVD release Mariza embarks on a North American tour that will see her visit cities from Milwaukee to Austin, and from Honolulu to Hampton, Virginia.