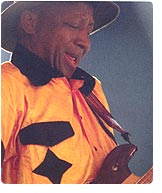 "Diamond Fingers" Diabaté returns with solo release, rejoins Bembeya Jazz on North American stages this summer.
Legendary Guitarist Sékou "Diamond Fingers" Diabaté has spent years as the melodic focal point of Afropop legends Bembeya Jazz. On July 13 we will hear a new side of Diabaté as he releases a brand new solo effort entitled Guitar Fö, on World Village. The record finds Diabaté's inimitable, sizzling guitar work up front among the sparse accompaniment of bass, drums, and drone, allowing his guitar to find a true, uninterrupted voice.
The record features a slew of guest appearances from the popular West African singer Safiata Condé, and a foundation courtesy of Bembeya Jazz's well-oiled rhythm section. This new CD presents new original compositions along side some reworked orchestrations of classic Bembeya numbers.
Bembeya Jazz, formed at a time and place when Afro-Cuban music resonated and possibly became the bridge between traditional music and modern instrumentation, was certified as a national band by Guinea's first president Sekou Touré. The band moved to the capital, Conakry, where they performed as many as six nights each week and felt pressure to develop the hottest spine-tingling sounds. From this era emerged their signature four-guitar section, the introduction of Hawaiian slide guitar, and stunning stage performances.

Bembeya's creative director Aboubacar Demba Camara was killed in a tragic car crash in 1973. The band was eventually able to re-group and right before the 1984 death of President Sekou Touré, he denationalized Bembeya (their first opportunity to operate internationally) and gave them their own nightclub. But the '80s saw a significant economic decline in Guinea and most of the band members had to look outside of the Guinean music scene for their primary livelihood.

The band's latest fierce line-up includes four members that hail from the group's formative years, decades ago. Sekou "Diamond Fingers" Diabaté has not let up with his fiery guitar embellishments and entertaining stage antics. The strident voice of M'Bemba Camara joins Mamadou Barry on sax, Mohamed Kaba on trumpet, and Mory Mangala Condé on drums help to form the 7-piece band that will tour North America this summer.

Expect to hear the new and old Diamond Fingers cuts as he and the rest of Bembeya Jazz gear up for a North American Tour this June and July.