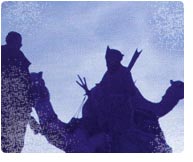 Festival in the Desert DVD Brings Music Fans to the African Sahara
Featuring Ali Farka Toure, Robert Plant, Tinariwen, Lo'Jo and More
Picture yourself traversing dune after sandy dune in a 4x4 truck only to arrive at a makeshift city in the sand. An oasis of global culture, bolstering with assembled musicians, artisans, and tents stretching in every direction over the rolling desert. Upon your arrival an ad hoc collection of musicians exchange in a call and response with wide-eyed onlookers who, like you, are only beginning to fill their curiosity with this surreal reality. Come nightfall the first round of performers will fill the bustling desert landscape with electrified sounds from three continents.
Filmmaker Lionel Brouet takes you into the heart of this inimitable Sahara desert experience with his unforgettable account – The Festival in the Desert, a new DVD set for release via World Village on October 12, 2004. The film assembles a wide variety of performances from diverse artists like Tinariwen, Lo'Jo, and Oumou Sangare, to legends rock vocalist Robert Plant and Malian bluesman Ali Farka Toure; thirty acts in all from Africa, North America and Europe. The DVD release coincides with a 12-concert tour by Tinariwen in October and November, as well as their October 12 CD release, Amassakoul (World Village).
The film invites the viewer to see exactly how such a festival was able to sustain itself in one of the most remote regions of the globe. "The site was completely barren, aside from the most important thing: a well," says Lo'Jo's Richard Bourreau. "We had to bring everything else in. This takes days and days of back and forth from here to Timbuktu. Just to give you an idea, Timbuktu is about 40 miles away from this site, which is a four or five hour drive." This is only a small problem when compared to the droughts and war that the Saharan nomads have faced in recent years.
Only a decade ago civil war prevailed in this region and forced many of the desert's nomadic tribes to find refuge away from the fighting. This gathering manifests what was envisioned in the 1996 "Flame of Peace," in which 3000 guns were publicly burned to signify the beginning of the reconciliation between the nomadic and sedentary communities of the southern Sahara. For centuries these gatherings have provided an invaluable opportunity for the nomadic Kel Tamashek to meet and celebrate with various forms of Tamashek song, dance, poetry, ritual sword fighting, games, and other ancient cultural traditions. Over the years organizers opened the event to the entire desert region, to the whole of Mali, and eventually to the world.
U.K. music critic Andy Morgan recalls the experience of attending the festival: "Bambara and Manding musicians... to whom Timbuktu and the Sahara were feared no-go regions… suddenly found themselves walking amongst ferocious looking Tamashek nomads without trepidation or concern. Oumou Sangare's rendition of the Malian national anthem was so much more than an inconsequential piece of enforced protocol. It was a heartfelt hymn to the peace and prosperity of an African nation, united, in music and feasting… Ali Farka Touré just beamed a forty-eight hour smile and kept repeating over and over, 'Je suis très content, très fier!' ('I'm very happy, very proud!')."