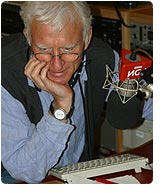 The Best of the World on Wrasse Records:
Charlie Gillett's World 2004 Does it Again!
"This is the sound of the world today as heard by these ears," says Charlie Gillet, host of the BBC's "The Sound of the World," summing up his latest annual collection of global musical explorations. With the series in its fifth year, Wrasse Records releases World 2004 on August 24, 2004. The CD compilation celebrates this year's best and brightest from 28 countries and in almost as many languages, with a spotlight on up and coming faces.
Charlie Gillett is one of the most influential names on the global music scene. His two radio shows expose the very best of the genre and he has been responsible for supporting and breaking virtually all of the biggest stars of recent years. For the fifth year, Gillett's World 2004 selection rounds up the best and most popular world music of the past 12 months. (The previous 4 having been released on EMI) As such, this compilation is now seen as the must buy World Music Compilation of the year.
Gillett has stirred up some inventive juxtapositions on an album where no two tracks sound the same. Sidestepper's Cuban tones and subtle electronics take us across the Atlantic to Tinariwen's perilous Saharan desert blues. Without notice we're carried north by the gravelly dramatics of Italy's Pietra Montecorvino. From the Nigerian hip-hop stylings of JCC & 419 Squad to the traditional Venezuelan sounds of Simón Diaz, this collection not only crosses borders, but it embraces the personality and stylistic divergence of each location.
We open with the hidden gem "Fat Marley," a favorite of Charlie's listeners; from the major acts Ojos De Brujo, Souad Massi, Think of One, Terry Hall, Lo'Jo, and Tinariwen to the newcomers, Taffetas, DJ Dolores, Fat Freddy's Drop, Idrissa Soumaoro, and Carla Bruni and culminating in the exclusive new Khaled track "Madre" from his new album - this is the best of World 2004.

"A wonderful collection of tunes from around the globe, compiled by OMM's own expert on all things worldy. It's a trip certain to lift your spirits and open your ears." -- Caspar Llewellyn Smith, Observer Music Magazine
"[The Artists] take distinctive musical traditions and do something entirely contemporary and unexpected with them. You may not have heard of many of them, but Gillett has been picking winners on his radio shows for more than 30 years." -- Nigel Williamson, The Times (London)
"[Charlie Gillett] has a canny instinct for what the novice listener will pick up on, as well as a passionate belief in everything he plays, and it's difficult to imagine anyone remaining unmoved through dreamlike transitions such as the one between Abyssinia Infinite's ethereal Ethiopian jazz and Lo'Jo's unclassifiable acoustic fusion. If you need someone to hold your hand through the tangled webs of world music, you couldn't hope for a better guide." -- Mark Hudson, The Daily Telegraph (London)