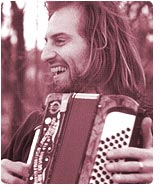 Chango Spasiuk's Sounds from the Red Land:
From Melancholy in the Fields to Happiness on the Dancefloor





"Chamamé songs blend melancholy and happiness together. It's a music with many levels: like an onion, you peel off layers and find real lives inside it." – Chango Spasiuk

Chamamé was born out of migrations to the northeastern provinces of Argentina, and infused with generations of war, hardship, and backbreaking fieldwork. This sound is more than a genre; it is the music of a place. It is the sound that stretches across vast landscapes of rivers, rainforest and subtropical weather, over sand and an endless expanse of red fields. Three hundred years in the making, this music was originally distilled from the combination of Spanish and Mbya Guarani indigenous styles. The accordion was introduced thanks to the polkas, waltzes, and schottisches that arrived with Eastern European migrant boats, and was eventually adopted as the unofficial instrument of chamamé. Hear chamamaé's past and future on Chango Spasiuk's latest effort Tarefero de mis Pagos, released February 8, 2005 on Piranha Musik.

Born in 1968 in the province of Misiones, Chango reaped the benefits of this meeting of cultures in northeastern Argentina. By age eleven, Chango had picked up the accordion and joined his father and uncle in impromptu patio performances overlooking the hot red earth of his homeland. Since then Chango has complemented his talents with work in folk, jazz and rock, allowing him to experiment with a multitude of sounds over six albums. Today Chango is the symbol of the contemporary chamamé movement in Argentina, much the way Astor Piazzola bred new life into tango. On his latest CD, Chango nourishes the growing history with an invigorating mix of new and classic chamamé songs.

The record pays homage to the tarefero, the field workers who spend their days harvesting yerba mate, the essential herb in the popular Argentinean drink mate. For three centuries this diverse workforce of immigrants working in the fields produced a tension and release that could only truly be represented by the lamenting joy that became chamamé—a feisty and infectious dance music in 6/8. This music reflects the hardships of fieldwork, clash of cultural identities, and friendships that are born when everyone shares a Saturday night on the dance floor.

Tarefero de mis Pagos represents a new page for Chango. The success of his previous record Charm of Chamamé gave Chango the opportunity to travel abroad and spread his distinct music, while simultaneously carrying his music into the future. Chango decided to abandon the modern conventions of drum set and electric bass and set forth with an all-acoustic ensemble focusing on guitar, percussion and double bass. The result is a plethora of song forms ranging from white-hot dance numbers to more reflective pieces, both of which stress his intangible talent for unique dynamics and intelligent melodic shifts. "Sometimes to know what melody is coming lets you have more control over the situation," says Chango. "It's not that I'm looking to fight against this. It is my intention to create some room to let people open themselves up to other places when they listen." Tarefero is the sound of Chango revitalizing this music for the 21st century.