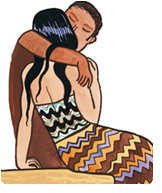 What's Old is New: Italian Café Returns Fans to Era of Renewed Energy & Abandon
After the chaos and destruction of World War II and its accompanying military music, the Italian public was ready for a more relaxed sound. Jazz, swing and boogie-woogie were achieving worldwide popularity and, in Italy, merged with the Italian crooner tradition. The musical rebirth of the 1950s and '60s was like a second liberation. What's old is new and Putumayo's July 5, 2005 release Italian Café captures the music and attitude from that era and from current singers whose musical DNA follows that lineage. The CD follows Putumayo's successful French Café collection.

Many of the artists on Italian Café packed the nightclubs of the era and gained popularity through Italy's newly inaugurated TV channels and burgeoning film industry. The image of the lovable hoodlum came to life in Fred Buscaglione. While most foreign music was banned under the Italian fascist regime, Buscaglione wound up in a U.S. internment camp, where he was able to get a jumpstart in trying out the styles emerging from America. True to his fast-living ways, he died at 40 crashing his pink Thunderbird into an oncoming truck early one morning in 1960.

Quartetto Cetra emerged in the late '40s, when they provided the overdubs for the Italian versions of the movies Dumbo and Wizard of Oz. The following decade found Renato Carosone blending Neapolitan folk music with American jazz and boogie-woogie to create a signature style that made him a household name in Italy and a chart-topping crooner in the U.S.

Nicola Arigliano, now in his 80s, is the only 1950s-era artist on Italian Café performing to this day. Born in 1923 in a small village in southern Italy, Arigliano ran away from home when he was just 11 years old to play music in the nightclubs of Milan. After experiencing great commercial success, Arigliano disappeared from the concert stage for 30 years. In the past decade he re-emerged with four new albums and a critic's award at the glitzy San Remo Festival.

Two songs on the CD come from Giorgio Conte, who is not as well known as his brother, Paolo. As both songs demonstrate, however, the older brother has a jovial spirit that shines through in his lyrics. "Gne Gne" pokes fun at a very famous movie star lover of his who never says anything of meaning, only petty gossip and "gne gne." "Cannelloni" teases another lover who is always on a diet and never can enjoy the pleasures of pasta."

Gianmaria Testa is more famous abroad than he is at home in Italy, where he works as a train station manager. Testa performed his subtle and introspective songs for a local following near his native village of Cueno, not far from the French border, until a French producer helped him produce a critically acclaimed album in 1995. You can hear his trademark gruff, whispering voice on two songs on Italian Café; one about the superficiality of fame and one which compares the flight of hot-air balloons to human relationships.

The CD is rounded out by modern artists who are not retro in sound, but who cannot deny some heritage from their predecessors. Vinicio Capossela is like a Tom Waits of Italy, reminiscent of some unnamable era and with no hesitation in throwing in the sounds of toy pianos and chain saws. Newcomer Maria Pierantonia Giua makes her CD debut on this album. Meanwhile, Daniele Silvestri's "Le Cose in Comune" (The Things We Have in Common) won Italy's equivalent of the Grammy, as best song of the year. Over a jazzy bossa beat that echoes popular Italian music of days gone by, Silvestri sings of all of the 4,280 things he and his lover have in common.

Austrian band Quadro Nuevo perfected their instrumental versions of popular Italian songs of the '50s and '60s by performing on the streets of cities across Italy. The instrumental they present here—Renato Carosone's classic song "Tu Vuo' Fa' L'americano" (You Want to Play the American)—was one of Italy's first world wide hits.

The collection features instructions to make a coffee drink by Italian coffee company Illy and extensive liner notes in English, Italian, Spanish and French. A portion of the proceeds from this album will be donated to Terres des Hommes, a Swiss based non-profit, dedicated to improving the lives of children around the world.