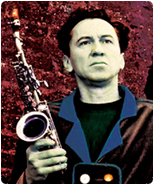 A Cool Turning Away from Balkan Pain: Boris Kovac & La Campanella's World After History Merges Pannonian Melancholy with Mediterranean Joy
What turns out to be a major problem in politics is a blessing within the arts. "Our advantage is that people from 20 different nationalities live together in the Pannonian plains", says Boris Kovac, whose latest CD World After History will be released on August 9, 2005 on Piranha Musik. The composer, instrumentalist and multimedia artist from Novi Sad, capital of the multiethnic region Vojvodina in the Pannonian plains of former Yugoslavia continues, "No one can say which folklore my music stems from exactly. Me and my musicians, living in an urban situation, have no contact with the little villages in the country. We cannot retrace where the music comes from, anyway. It is not necessary. The crucial point is to use the sources as nourishment for your own creativity."

Boris Kovac understands these things. Known as a legendary cross point for all sorts of migrants from the Mediterranean to the Baltic, Pannonia is characterized by the concurrence of Catholicism and Slavic Orthodoxy, and all of their respective cultural characteristics. Kovac, born in 1955, began to draw from these diverse heritages many decades ago, acquiring a spectrum of artistic expression rarely heard. He writes music for his chamber groups; many of his projects are connected with theatre. In 1982 he created the Ritual Nova Ensemble, an ever-changing, flexible group of musicians as well as visual artists, dancers and performers, acting as sole composer and director. Since 1989 he has been the leader of the Chamber Theatre of Music OGLEDALO from Novi Sad, Academy of Fine Skills, and "La Danza Apocalypsa Balcanica" with LADAABA orchestra, whose The Last Balkan Tango and Ballads at the End of Time were also released on Piranha.

La Campanella's World after History serves as the perfect vehicle to combine the two main motifs in which their leader artistically now indulges: being rooted in the Pannonian plains and longing to come to terms with the difficult political present of the region by infusing their unmergeable characteristics with some Mediterranean philosophy á la Albert Camus: The sun is an answer to all historical dilemmas.

After living in Italy, Slovenia and Austria for several years, Boris Kovac came back to Yugoslavia to participate in the cultural reconstruction of his home country in numerous projects in the re-flourishing theatre scene. He shared his artistic talents at more than 100 festivals of new music and contemporary theater in several different countries. He reveals his Serbian, Hungarian, and Romanian roots while simultaneously finding similarities with the darker side of the "Rock in Opposition" movement (Art Zoyd / Univers Zero) of the 1960s and '70s and with the Third Ear Band combined with the manifest influence of Béla Bartók and Balkan folk music.

At this point in his career, Boris Kovac, like Bartok 70 years before, stands out as a cultural hybrid between music traditions and the young contemporary scene of Yugoslavia plus all the influences he picked up on the way; last but not least by way of his musicians. The Balkans became far too narrow for the open-minded lot of them, politically as well as musically. So they move on to new horizons, this time preferably Mediterranean. Accordion, violin, bass, and drums are played by Half-Serbians, Half-Hungarians and Half-Macedonians. Add to that a guitar and clarinet and you get origins as diverse as their influences.

…which still does not even begin to give you an idea where they are heading. Says Boris Kovac: "La Campanella marks a cool turning away from the pains of the Balkans' recent years to realities more hopeful and promising." It is a trip into sentimental spaces, Boris Kovac is very satisfied with. A flirt with nostalgic "tristeza," melancholy, joy, romantic enthusiasm, he is very proud of. And quite relieved about. Longing, desire, utopia, and vision – they all have a new name: La Campanella. And a record: World after History.