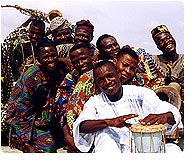 The Voodoo, Military Brass, and Scratchy Vinyl of Benin:
Gangbé Brass Band Reinvents their Roots on Whendo & on Tour
Picture the sound of military brass bands, voodoo ritual chants and rhythms, scratchy American jazz records, with a dash of Fela's Afrobeat, and you can almost hear Gangbé Brass Band. The band from the West African nation of Benin releases their second album Whendo in America on October 11, 2005 on World Village.

Gangbé—which means "the sound of metal" referring to the trumpets, saxes, trombones, sousaphone (related to the tuba), and sometimes elaborate metal bell percussion—epitomizes the unlikely history so often found in Africa. The recording—produced by Belgian outfit Contre Jour—is accompanied by a national October and November tour across America, from New York's Carnegie Hall to San Francisco's Great American Music Hall. The CD follows their 2001 release, Togbé.

Once a prominent West African kingdom in the 15th century, Benin was colonized by the French in the late 1800s. The legacy of European brass bands is heard in many parts of Africa, and so is the legacy of vinyl that sailed from American jazz clubs. Witness "Segala" which pays tribute to Oscar Peterson's "Night Train," which commemorates a year that Gangbé spent in a big band in Benin headed up by a German. But, as Michelle Mercer wrote in Time Out NY, Gangbé's "mambofied horn arrangements also recall that Cuban music was once the rock & roll of West Africa."

In an effort to maintain traditional Beninese rhythms and share them with a wider audience Gangbé sought permission from voodoo priests and from their ancestors to use certain chants and rhythms. Furthermore, the band makes a point of singing in several languages indigenous to Benin including fon, ngou, mina, yoruba, évé, as well as French.

Benin shares a border with Nigeria and though many of the songs make an obvious connection to the legacy of Afrobeat originator Fela Kuti (including tribute song "Remember Fela"), the happy tone of Whendo seems also to make reference to the juju sounds made popular worldwide by Nigeria's King Sunny Ade, belying any perceived allegiance to a military or militant sound.

Their playfulness is front and center in their live performance. They often start a concert from off stage, sometimes seated in the audience. One percussionist can be seen playing a large metal bell balanced on his head. It will take a few minutes for audiences to readjust their eyes and ears to the bright colors of their traditional garb, the unexpected combinations of timbres, and the happy but serious playing. Adept listeners might catch familiar musical references, from New Orleans marching bands to Afrobeat riffs.

The juxtaposition of sounds of Gangbé Brass Band—at once hard-hitting and sweet, simultaneously mischievous and soulful—catches listeners off guard, making it hard for them to decide whether to stare in awe or step onto the dance floor. Either way, Gangbé conjures up a place and time that is both real and magical.