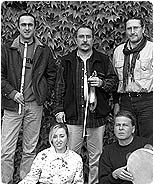 King's Singers and Sarband Explore the Parallels between Jewish, Christian and Muslim Liturgical Music, Creating Sacred Bridges
The world's foremost a capella ensemble, The King's Singers and Middle Eastern early music specialists, Sarband, will tour North America this fall with the program from their new release "Sacred Bridges" released on World Village. "Sacred Bridges" demonstrates similarities between the Jewish, Christian and Muslim faiths. Using these sacred texts as a bridge, the artists aim to reach a place of understanding and tolerance between the adherents of the three major faiths - a shared foundation for trust. Settings of the Psalms of David, revered and extolled in each of the three monotheistic religions, are by composers from the 16th and 17th centuries, performed in Hebrew, French and Turkish.

THE COMPOSERS
Salamone Rossi was an Italian Jew, (c1570 - c1627) attached to the court of Mantua. A contemporary of Monteverdi, Rossi was also an accomplished singer and violinist, but his fame was based on his numerous compositions, which survive today. Reflecting his court music, his liturgical compositions for the synagogue were the first to include Renaissance polyphony and Baroque ornamentation, the popular music of the period.

Frenchman Claude Goudimel (1514 - 1572) created his most lasting liturgical works after converting to Protestantism, a decision which eventually cost him his life, as he died during religious riots in Lyons. Goudimel is chiefly noted for his 4-part settings of the entire Genevan Psalter. Unlike other settings of the time, he put the melody in the topmost voice, creating the 'lead tenor' style, which prevails to the present day.

Jan Pieterzoon Sweelinck (1562 –1621) succeeded his father as organist at the Oude Kerk in Amsterdam, where his family members were organists continuously for almost one hundred years. A prolific composer of sacred and secular choral music, he left six volumes of psalm settings in French of the Genevan Psalter, although he is best known today for his keyboard music. The most important Dutch musician of his time, Sweelinck was one of the major figures in the transition from Renaissance to Baroque compositional styles.

Ali Ufki (1610 – 1675) was born Wojciech Bobowski as a Polish Christian. He converted to Islam after his capture by the Ottoman Turks at the age of 13 and became renowned as a musician and translator in the imperial court of Sultan Mehmed IV in Constantinople. Documents from the period indicate that he spoke sixteen languages and his legacy includes the Turkish translation of the Bible. His Turkish settings of the psalms, based on the Genevan Psalter, are still popular today.