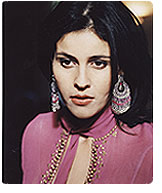 The Melancholy, Optimism, and Achingly Beautiful Voice of Souad Massi: Algerian Singer Merges Oriental Orchestra, Loping West African Grooves, & Cape Verdean Morna
"I am a musician, a dreamer, a melancholic, and an optimist," says Souad Massi, when asked, one sunny autumn day in Paris. "I am also a global citizen." Six years ago the doe-eyed singer/songwriter picked up her guitar and left her war-torn country, Algeria, for a different life in France. Today—with her first two albums, 2000's Raoui (The Storyteller) and 2003's Deb (Heartbroken) hailed as classics—she is probably the best-known female singer from the Arabic-speaking world. There have been record-breaking album sales; awards and citations; television appearances. Sell out concerts in Europe, America, Australia. Her exquisite voice has become instantly recognizable.

"When I was young I had a map of the world on my bedroom wall," offers Massi, who grew up, the second of seven siblings, in the hillside suburbs of Algiers. "I would look at the different countries and construct films about them in my head. We were a poor household; I didn't think I would be able to travel." She pauses, sighs. "The power of wishful thinking," she adds, flashing a smile.

The power of talent and determination, more like. Initially touted as the Maghreb's answer to Joan Baez or Tracey Chapman (despite being nothing like them) 32-year-old Massi has stamped her own identity, her own style, on the public's consciousness. Her culture-blending sound—a mix of traditional, rock, folk, classical, flamenco, and any other genre that takes her fancy—is the antithesis of North Africa's pounding rai rhythms. Her ballads are melodic, poignant, achingly beautiful; their mainly Arabic, occasionally French, and English lyrics as tough as they are poetic. Her concerts, too, are legendary: as the former lead singer of Algerian metal band, Akator, Massi knows how to rock out live. This delicate flower has, if you like, a stem of steel.

Now comes a new album, Mesk Elil (Honeysuckle) on Wrasse Records. The work of an artist at the peak of her creative powers—and one hot on the heels of Yngy, Massi's first child—Mesk Elil broadens the musical spectrum with orchestral sections, loping West African grooves and a maturity that is "the natural result of two years of constant touring." Produced by the visionary Jean Lamoot (Noir Desir, Salif Keita) and featuring such stellar musicians as long-time guitarist Jean-Francois Kellner, Malian axeman Djely Moussa Kouyate (from Salif Keita's band) and burgeoning world music superstar Daby Touré, Mesk Elil reflects both Massi's personal and social concerns. Once again the purity of her vocals belie the often harrowing intensity of lyrics on love, heartache and longing (lyrics that could be about herself or her country), but there's a sweetness here, a sense of hope, that hints at brighter days to come.

On the opening track, "Kilyoum" (Soon), hardcore Algerian chaabi merges with Cape Verdean morna as Massi sings of an expatriate son reassuring his mother that all is well; the epic "Denya Wezmen" (That's Life) is a musical paean to celebrated Egyptian producer Mohamed Abdel Wahab—the man who put the cha-cha-cha into legendary singer Oum Kalthoum—as well as a lyrical tale of former lovers who no longer speak. "Dar Dgedi" (My Grandfather's House) takes the listener to the Djurdura mountains of Kabylia, where Massi's mother, a Berber, was raised, while "Ilham" (Inspiration) uses the grooves of the nomadic Tuareg people and deeper, more resonant vocal passages to praise Massi's self-sacrificing older brother, Hassan: "I sing this in Arabic but in the Berber style. It's more like Malian music, the music of Black Africa."

A jeans-wearing, non-practicing Muslim, Massi is reluctant to be drawn in on notions of religion or ethnicity. Music has always been her motivating force. "As far as I'm concerned, I'm African," is all she'll say—though as she insists on "Manensa Asli" (Miwawa), her compelling duet with Daby Touré, she won't forget her roots. Indeed, the album's title track sees our artist yearning for Algeria and the flower whose scent filled the streets and gardens of her youth, replete with classical string arrangements from respected Paris-based musician and bandleader, Marie-Jeanne Serrero. "I'd never actually worked with a female musician before," Massi says. "She had a very different touch, very intuitive, very sensitive.

"Hadga Wala Akter" (There's Worse) is similarly rooted in Massi's past, telling—over sobbing cello—of a recent reunion with a girlfriend, a fellow-civil engineering student from Algiers: "She used to be full of joi de vivre but had experienced a complete reversal of fortune. The contrast was striking." "Malou" (Why is My Heart Sad) is a fado-like lament for a discontented elderly friend in Paris; "Khalouni" (Let Me) admonishes a band member for wallowing in self-pity in, of all places, Tahiti. ("We were doing some concerts there," Massi explains with a grin. "It felt like paradise. Being sad in Tahiti wasn't normal.") "Tell Me Why," a duet with the guitarist Pascal Danae, is a love song partly delivered in English; "Mahli" (Ilham, reversed) is a stomping remix that finishes Mesk Elil on an upbeat.