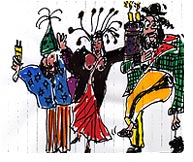 Jewish Carnival in New York?
A Perfect Match, Made on the Streets of the Global Village
Few people know that the first Jews in North America came to New York on a boat from Recife, Brazil 350 years ago. Marking the Semiseptcentennial of this momentous occasion, Frank London's Klezmer Brass All Stars' Carnival Conspiracy: In the Marketplace All is Subterfuge (released by PIRANHA Musik/Harmonia Mundi) brings the spirit and aesthetic of Brazilian carnival together with the street sounds of Brass Band and Klezmer in the celebration of what London calls "the original New York Jewish music." Forty artists from eight countries and four continents meet in this 'band that's not a band.'

Carnival is intended to subvert. Mikhail Bakhtin, the Russian granddaddy theorist of the "carnivalesque" (both the description of a historical phenomenon of carnival and the name he gave to a certain literary tendency), proclaimed that the purpose of carnival is to liberate the masses. During the great carnivals of Medieval Europe, and their later manifestations in Latin America and the Caribbean, the period of carnival served to temporarily reverse the social order, shake things up, and shock people into new ways of experiencing the world. This philosophy was not lost on Frank London. References abound in Carnival Conspiracy: Bakhtin, Rabelais (the French patron saint of carnivalesque literature), and George Clinton are invoked in the liner notes, laying out a feast for the intellectual, for the tongue-in-cheek cultural critic, as much as for the layman, the booty shaker and the Hasid. Ever the trickster, London and his merry band take listeners on a wild ride.

A departure from Frank London's other projects (The Klezmatics, the preeminent band in the Klezmer revival in the 1970s, and Hasidic New Wave, an improv-Hasidic-jazz combo) FLKBAS is rooted in the spirit of Brass Band music, which historically serves as the musical manifestation of a community, be it a town, school, union or police force. FLKBAS is the band for the global village, and its sound reflects the reality in which its members live: A world in which a Lower East Side New York Jew walks down his block every day and hears Hip Hop and Dominican bands blasting from beat boxes, and Hasidic and Cantorial Music issued forth from the loudspeakers of Mitzvah-mobiles that cruise the city.

Carnival Conspiracy is indeed a kind of musical travelogue. Just when you think you are hearing a traditional Klezmer song on "Midnight Banda Judía," in come the sounds of Bavarian beer hall and a Mexican banda, and a song that starts with Brave Old World's Michael Alpert singing in Yiddish ends in Spanish. Then, when you think you have gotten a handle on the traditional beats of Eastern European wedding songs mixed with the Brazilian beats of New York Maracatú, suddenly you are lost in the echoing loops of a dubby version of "A Time of Desire," a traditional tune arranged by Frank London and remixed by Brooklyn-based Curha ("a multi-instrumental electronic music creator who thrives on deconstructions and reconstructions of everyday noise"). Once you stop trying to locate yourself in the origins and philosophy of the album and its references, you throw up your hands, dance a samba-hora jig, and find yourself lost in the transnational frenzy of joy and ecstasy that is the essence of carnival.

Rare gems and appearances grace each track. The communal voice of Kol Isha, a group of female vocalists subversively named after a Hebrew injunction against men hearing the voice of women singing, weave in and out of much of the album. Eighty-year old Ukrainian master clarinetist German Goldenshtayn makes his one and only known recorded appearance here, as well as bringing his vast Moldavan Jewish repertoire to the album. Avant garde Ukrainian folk singer Marjana Sadowska does her 'ecstatic kolomeyke thing' on the opening track, bolting you upright in your seat, and hopefully, bringing you to your feet. "This is not background music," remarks London dryly.

Get ready—the cover art should prepare you for the ride inside. Deliciously carnival inspired drawings by Belgium-based artist and klezmer violinist Richard Kenigsman pick up the same themes close to Frank London's heart: traditional Jewish culture seen both on its own terms and through a radical-feminist-populist-revolutionary-sacred-as-profane-and-vice-versa lens.

Humorously rumored to be a troupe of drunkards that invented Klezmer, the "Inebriated Orchestra" is busted on this album as a sober group who are serious about shaking things up with wit and wisdom. But when the bubble of hype bursts, you are left with the fact that this music intoxicates. Carnival Conspiracy invites transcendence on all levels; it will make you dance past your critical mind, laugh yourself into liberation, and reconsider the meaning of Jewish music. Of all the CDs recorded by Frank London's Klezmer Brass Allstars, this is by far the third.