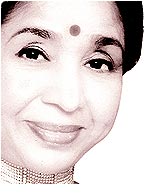 Bollywood's Reigning Queen of Song: Asha Bhosle Sings Supremely of Love
With the appearance on mainstream American radar (and silver) screens of Indian film stars such as Aishwarya Rai, and films such as Hollywood/Bollywood, America is waking up to Bollywood, which takes the crown as the world's largest film industry. Popular Indian film has bred an equally popular genre of music, as most of the films are musical epic sagas, interspersed with fantastic song-and-dance numbers which play constantly on MTV Asia and are known and loved not only across South Asia, but from Europe to Africa.
But behind the youthful looks and acting skills of Bombay's stars such as Rai, Karisma Kapoor, and Rani Mukherjee is what might be found behind many successful women: a warm, dimple-cheeked matron. Seventy-two-year-old Asha Bhosle, one of the most-recorded female voices in Bollywood, is a playback singer whose songs have been lip-synched by hundreds of Indian film actresses over her 50-some-odd-year-long career. Ashaji (as she is lovingly called) will introduce American audiences to the range of her well-known and well-loved repertoire this spring with Asha Bhosle: Love Supreme (Times Square Records), a double CD of—you guessed it—love songs. The album—a two-sided coin of newly-recorded ghazals (a classical song form based in Persian and Urdu poetry, which Bhosle describes as "a conversation between two lovers") and her classic-romantic duets from some of Bollywood's best-loved movies—is as diverse as the artist herself.
Only a handful of singers have consistently provided the singing voice for almost all popular Bollywood actresses from the 1950s to date. This elite, including Bhosle and her elder sister Lata Mangeshkar (known as "the nightingale of India"), have playfully vied to be the voice of the best roles, for the biggest stars to lip-synch to. Their relationship has been defined as much by Bollywood as anything else, and, since childhood, they have maintained a long healthy competition based on a mutual respect for each other's talents.
Moving to Bombay after the death of her father, nine-year-old Asha and her elder sister started singing and acting in films to support their family. Lata got a head start on the "heroine" roles , while Asha did not hesitate to sing for the bad girls and vamps.
In the 1950s, Asha sang more songs than any other singer in Bollywood. Asha's singing has outshined some of the films that they have appeared in, such as "Sharabi Aankhen." Though the movie "Madhosh", in which this song was featured, did not fare well at the box office, the song became very popular and remains so to this day.
Described even by her sister as playful, unorthodox, hopelessly romantic, with a youthful rebelliousness and never-say-die attitude, Asha is one of the most passionate, prolific, and versatile singers around.
While she is best known for her singing in Hindi films, Bhosle's work has ranged from the classical to the popular, to more fusion-type Indipop and bhangra projects. She has recorded songs with Boy George, boy band Code Red, and Michael Stipe. And Cornershop paid tribute with their album "Brimful of Asha."
She brings some of her flair to the interpretation of the classic ghazals on Disc One of Love Supreme. The songs are produced in various styles of contemporary music, ranging from lounge, pop and rock, to funk and jazz, but the foundation for the music of the ghazal is based purely on North Indian Classical Music.

"When this record was released in India, it was only Disc One," explains Yusuf Gandhi, the principal of Times Square Records. "We decided for North America, where Asha's music is reaching more and more Bollywood newcomers, that we should also give them some of the songs that made her popular in India, as well as a little more diversity. I asked her to recommend a few of her favorite duets that she enjoyed recording. So we have love songs, songs that she loves, artists she loved working with."
Not only did Bhosle help select tracks for Disc Two, she contributed her own personal stories about the duets, some of which were recorded forty or more years ago. The two-CD package—which retails for the price of a single disc—is enhanced with two music videos.
Despite her stardom, Bhosle is every bit the matriarch, glamorous though she may be, in her trademark embroidered white saris, and fine taste in jewelry. When not recording or shooting music videos, she can often be found in the kitchen, cooking. She has collected recipes from across the country. Actor Randhir Kapoor once advised her to stop singing and take up cooking as a profession. She's not taking his advice wholeheartedly, but she has embarked on a restaurant franchise project, the first of which, Asha's, opened in Dubai in 2002 to rave reviews.
It may be a picture hard to imagine when her voice is coming out of the mouths of characters caught in the throes of Bollywood drama, but much of Bhosle's inspiration comes from her home life and family. Even in the studio, her family is with her in spirit. While recording the song "Chhod Do Aanchal," she recounts, "I was not getting the right expression in this song. So, Sachin Dev Burman (the composer of this song), told me to imagine that my husband was tugging at my sari and how I would react to that. That prompted me to sing with the right expression!"
Her children and grandchildren, many of whom work in the entertainment industry, are her chief advisors in developing new directions for her music. It is that intergenerational attunement that gives her an appeal that has lasted for five decades. Around the time of her winning of MTV's Indian Viewers' Choice Awards in 1997, journalist Sheela Raval described her this way:
"The high priestess of Bollywood music has gone for an image make-over. At 64. And granny's looking glamorous. The middle-class Maharashtrian housewife next door is the new pop icon, taking over from the no-holds-barred young breed. The awards are coming in so quick, they may become a habit."
It seems Bhosle's accomplishments in this life are due in part to her capacity to come alive in many different roles; her success is often attributed to her uncanny ability to "change the color of her voice," according to Rough Guide to World Music contributor Ken Hunt. He says, "She is convincing as the ingénue, the matronly woman or the old lady looking back wistfully."
"Music is like my breathing," she says. "The day it stops, my breath will stop too. There is so much to do and I'm afraid there is very little time left. I hope I can continue singing in my next birth."