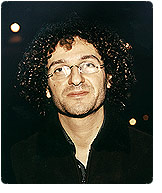 When Tunisian Laptops Meet Bushmen, Tablas, and a Malian Songstress:
Smadj Plucks Digits like the Strings of an Oud
Paris-based Tunisian musician Smadj pilots a musical landscape with an oud as his steering wheel and a laptop loaded with his sampled creations as his global positioning system. The gasoline in this musical time travel machine is improvisation, and he always keeps one eye in the rear view mirror to find out where to go next.

Smadj did not realize that the elements of his latest album, Take It and Drive (on Rasa Music), became the perfect formula for a one-hour drive. Having conquered the sequencer, mastered the sampler, and tamed the synthesizer, he was ready for a new challenge.

"All the electronics on the album are the fruit of live improvisation," explains Smadj, whose birth name is Jean-Pierre Smadja. "I take my personal library of samples and sounds and play them live. I spent three years exploring this and found that you can play the laptop just like any other instrument."

All of the tracks on Take It and Drive originated as live performances, either on stage or in Smadj's home studio. "It is not like the last generation of electronic music where you sequence different sections and re-arrange it to compose the song," says Smadj. "Now it is improvised live."

The album's ten tracks (plus two remixes) were selected from over thirty compositions Smadj created over three years. Some of the songs are boiled down from twenty-minute live jams. After editing the songs down, Smadj then added acoustic instruments—including his own evocative performance on the oud—and invited guests. You can hear references to his prior affair—titled DuOud—in which a pair of ouds were joined with electronica. Smadj plays acoustic guitar and oud himself on some tracks but enlists a range of stellar guests to participate in the experiment.

Asian Underground heavyweight Talvin Singh and Ekova frontwoman Deirdre Dubois appear on 'Vogue.' Amit Chatterjee, the singular Indian vocalist and guitarist of Joe Zawinul fame, and Mehdi Haddab, who partners Smadj in the duo DuOud, team up on 'Drive.'

Malian singer Rokia Traore appears on two songs as well as both of the remixes. "I really wanted Rokia," exclaims Smadj. "Her voice is really, really innovative, really modern. She is very successful because of her quest to be modern within this kind of African singing. And I think she sings a lot more modern on 'He Said' than she sings even on her own albums."

"On 'Fatwords,' her singing is more Malian traditional," continues Smadj. "But I wanted the marriage of that African singing with the oud, the Turkish ney (flute), and all these Oriental scales. African singers really improvise with their voice, like nobody on earth. They have all these memories of stories of families that they could use. That's what Rokia did: she came to my studio and heard one or two things from these songs and she improvised on them; really quickly with simple stories that she has known for ever. We have the same thing with Oriental musicians, but with instrumental music, not with singing. We use plenty of old, old songs and share quickly with other musicians. So Rokia and I could find a playing field where we could improvise together easily."

The Bushmen of Kalahari appear on 'Meeting with the Bushmen' thanks to an invitation to remix their music live. "I prepared several beats for them in advance," recalls Smadj. "But it was really hard for them to be inside these beats. It was too strange for them. So I decided to begin with one of their own melodies. I told them 'We will start from you.' I noticed this particular singing style so I sampled that and also the special rhythm associated with the singing. It's not exactly 6/8. It's really something from them. It was an important meeting for me."

The tongue-in-cheek song title 'C'est comme ci c'était fait…' comes from a French expression. "Whenever a DJ puts French spoken word into their recording, people in the UK always say, 'It's nice! It has a great French Touch!'" explains Smadj. "So I am kind of making fun of that on this song. I asked Dom Farkas—who is an actor, but is also known for his kind of pornographic, live poetry and music—to play the part of the radio DJ in this song. When a woman calls up the radio station to make her song request, the DJ replies with this French expression: 'I have just done it…' like he has already filled her request faster than she has asked."

The album begins and ends with something more personal: songs named for Smadj's daughter and son, respectively. "They have inspired me a lot," says Smadj. "Because of where I was in my life, these two songs are really melancholic. I put my heart into it. I play long oud solos. It was what I was going through at the time… a little bit of sadness. But people tell me there is plenty of love in these two songs, because it is about my children."

In the end, through all of the filtering and editing, the album clocks in at one hour. "It's perfect if you have a one hour drive that you just want to get through," Smadj chuckles. "You put that in on a long road and it will accompany you really nicely." Take it and Drive.