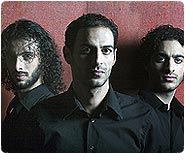 A Composer, a Stradivarius-Trained Oud-Builder, and a Prodigy:
Three Palestinian Brothers Bring their Ouds to America
This is a tale of the sons of a master luthier, who is the son of a master luthier; a family steeped in the 4,000-year saga of the oud, ancestor of the guitar. The oud's recent history finds it employed in classical music in the Arab world. Le Trio Joubran was born when elder brother Samir Joubran listened to the jazz/rock/Flamenco Guitar Trio of Al Di Meola, Paco de Lucia and John McLaughlin. "Why can't the oud be shiny like that?" Samir wondered.

The trio's first CD together, Randana, is a product of the three Joubran brothers melding their respective strengths: Samir's compositions; Wissam's hand-made instruments and skills in taqasim, or improvisation; and youngest brother Adnan's prodigious raw talent. Randana was released on the Joubran's own label of the same name, Palestine's first recording label, and in America will be released on Fairplay/Randana/Sheer.

The brothers were born in the Galilean city of Nazareth in a family with a strong musical tradition. Their mother sang in a Muashahat (a classical Arabic poetry/music form) ensemble and their father is an oud crafter known throughout the Arab world.

Samir's musical education began at age five with his father, and at nine he went on to enter the Nazareth Institute of Music, completing his studies at the Muhammad Abdul Wahhab Conservatory in Cairo.

Samir has performed at some of the most important venues in the Arab world: The Cairo Opera House; the Jerusalem Festival; The Jarash International Festival in Jordan; the Muscat Festival in Oman; Palestinian Week in Qatar. He has released two solo collections, two film soundtracks, and an album of duets with Wissam in 2005.

In 2005, the middle of the Joubran brothers, Wissam, was the first Arabic luthier to graduate from the Stradivarius Institute in Cremona, Italy, where he mastered the construction of violins and ouds. The three ouds played by Le Trio Joubran on stage were all handmade by Wissam, making it a real family affair with six brothers! Wissam's first performance was at age twelve with Samir at the Arab Institute in Paris. Besides his skill making the instruments, Wissam is known for his remarkable gift for improvisation and intelligent and harmonious transitions between the Arab maqamat (plural for maqam, a type of musical mode).

Adnan Joubran, who debuted on the international stage in 2004, is considered a prodigy by his elder brothers.

Last year the International Herald Tribune reported a story that captured the experience of Le Trio Joubran's plight, personally and professionally: "After the Parisian audience stood up, applauded and cheered, Samir's daughter, who is now 5, began to cry. Samir, who doesn't generally speak on stage and doesn't smile easily, carried her up to explain. 'She is crying because in her experience,' he announced, 'a crowd of people making noise means violence. She did not know that people clap their hands out of happiness.'"

American fans have the opportunity to attend Le Trio Joubran's concerts when they tour this April.