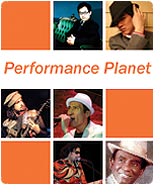 Performance Planet: The Queens World Music Series Connects the Dots
What unites the elder statesman of merengue, a Muslim rock rebel, and three emerging songwriters soulfully straddling Asia and America? They all share a firm belief that music can make disparate worlds meet, which is exactly what will happen at Performance Planet, a series of concerts at the LaGuardia Performing Arts Center.
Like these musicians, the series' sponsor, LaGuardia Community College, is dedicated to building bridges between Queens' many vibrant communities. It launched Performance Planet last year to reach out to its students, who hail from 159 countries and speak 110 languages, and to its equally diverse neighbors.
While bringing the world of Queens together, the series will showcase three generations of cross-cultural musicians who changed or are changing the sound of American music: Joseito Mateo, Salman Ahmad, and the young voices of the Asian Rock Fest.
Veteran merengue singer, arranger, and composer Joseito Mateo was born in the Dominican Republic, but has arguably had just as much impact on the U.S. as on his homeland. Now in his 80's, Mateo digs into live shows with the same gusto that made him a star in the 1950s and 1960s, keeping the big-band vibe of the era alive on stage. His first big hit, "El Negrito del Batey," has become a party anthem instantly recognized by merengue fans everywhere, something akin to James Brown's "I Got You (I Feel Good)." An inveterate showman like Brown, Mateo dances and sings with unstoppable verve, engaging audiences with his down-to-earth charm.
A true musical ambassador, Mateo played a major part in bringing the once-obscure merengue to a broader audience. Lauded for his accomplishments in the Dominican Republic and the US, he was officially proclaimed the King of Merengue Music in 2001 by the first unanimous vote in the history of the Dominican Congress. New York Mayor Michael Bloomberg recognized his role as a bridge between the Dominican Republic and the United States by declaring February 27 Joseito Mateo Day.
Though Mateo was the first Dominican to play large venues like Carnegie Hall, New Yorkers will get a chance to catch Mateo on May 12th up close and personal, right in the heart of some of New York City's most vibrant Latino communities.
Pakistani rocker Salman Ahmad challenges listeners to think and then leap into the mosh pit. Ahmad founded the hard rock band Junoon when he was in medical school in Lahore, Pakistan, where he began crafting music that blends the sounds of the subcontinent with hard rock owing much to Ozzy and Led Zeppelin.
Now based in New York, Ahmad continues to write soaring distortion-laden songs that have become the soundtrack for rock fans and metal heads across the Muslim world, for young people who find in music a response to their society's limited cultural and political options. Refusing to accept these limitations, Ahmad recently appeared in a documentary challenging several religious leaders to cite the Koran passage forbidding music. They couldn't (the passage doesn't exist).
Ahmad is more than a metal-loving musician, however. He is an ambassador for peace and cultural understanding. He has pushed hard for peace between Pakistan and India, the land of childhood stories told by Ahmad's grandparents. While advocating peace, Ahmad has also worked to fight the spread of HIV in his homeland and was named a UN goodwill ambassador for his efforts.
New Yorkers will get to hear a slice of Ahmad's most recent solo work, songs that blend licks reminiscent of U2 with vocal melodies hinting at the devotional songs of qawwali.
Along with veteran border crossers, Performance Planet will also feature a trio of youthful artists uniting two continents for the Asian Rock Festival. All three share a love for American pop, rock, and soul, and a heartfelt connection to their Asian roots. And that's where the similarity ends. As Vudoo Soul mused about a similar line-up, "We were all Asian, but brought up and guided by totally different communities and influences. Thus, everyone brought their own unique blend of sound, style and personality."
Brit-pop-inspired Johnny Hi-Fi, led by an eponymous Taiwanese-American singer and songwriter, invites comparisons to Weezer and Radiohead, but has found true resonance on the other side of the globe. Johnny Hi-Fi recalled wandering past a store on a visit to Taiwan, only to hear a song he'd penned drifting from the speakers as the store's staff sang along. It was a revelation that led to chart-topping singles on MTV Chi and a growing fanbase in the U.S.
Singer-songwriter Kevin So draws a different sort of inspiration from his Asian ties, a connection that puts fire into his lyrics, which are frequently passionate calls for a hard look at race and ethnicity's impact on American society. This sincerity, accompanied by bluesy, catchy tunes, has won Kevin a devoted following and the respect of musicians like Billy Bragg. Like Bragg, So keeps music and politics in a shifting, edgy balance.
Rounding out the Asian Rock Fest is Vudoo Soul, who went from engineering at MIT to music after a life-changing Alicia Keyes concert. Inspired by Keyes and Stevie Wonder, Vu began exploring the R&B and soul sounds he heard in his childhood neighborhood. Though there is nothing specifically "Asian" in the music, Vu will tell you that "the modern-day practice of Asian cultures is to actively emulate the trends of other cultures," thereby making them their own. And this process of musical transformation is what the three Asian Rock Fest acts are all about.
A similar kind of transformation is at the heart of LaGuardia Community College's mission: to give its vastly diverse 41,000 students the skills they need to thrive in the U.S. The musical ambassadors of Performance Planet demonstrate just how much new and first-generation Americans can do to change the country for the better by bringing together far-flung people and cultures—from the classroom to the dancefloor.