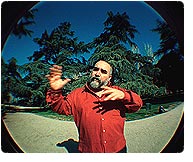 The Gibberish Soup of Pedro Luís Ferrer: Cuban Complexity in the Face of Hallucination and Tradition
Pedro Luís Ferrer alternates between poetry and absurdity, tradition and innovation on his new CD, Natural (on Escondida Music). He sings of a one-armed man who falls in love with a gorgeous woman who "turned out pretty dumb." Of a hallucinogenic party where women are removing their clothes only to find out they have antennas. He praises springtime, criticizes "the old formula," and frequently sings of love, morals, and snapshots of Cuban life.
Ferrer's independent spirit, in his lyrics and in his sound, reached new ears last year when he released Rústico, which according to the New York Times' Ben Ratliff, "shows off a troubadourlike sensibility in pop songwriting that can stand up to the possibly more widely respected Brazilian masters. It is great craftsmanship, and strikingly beautiful."
On Natural, Ferrer picks up right where he left off, tres in hand and again pairing his voice with that of his sonically-entwined daughter Lena. Percussionist Basilio Perodín plays a "drum set" allowing his hands to play the marimbula (bass thumb piano) and bongos, simultaneously with his feet playing claves and cowbell. This combined instrument was created under Pedro Luís Ferrer's direction over a long period of experimentation. Ferrer calls the instrument a "bunga," an old word from the countryside that refers to a small, improvised music group. Lerlys Morales rounds out the ensemble on vocals and guitar, and all four musicians pick up other percussion (batá drums, guiro, maracas, cajón) as needed.
The CD is the second of four Ferrer plans to record. He told Batanga Magazine last year, "Rústico had always been a dream of mine. I worked on it for many years, here, in a modest studio in my house. My plan is to record four albums with a rústico flavor… that rawness, that roughness in the music. I mean, music without makeup… Each album will have its own name and its own logic. The fourth will be more of a world-music album, and the plan is to invite world musicians to work with us. There's so much music out there, so many rhythms that have always played a secondary role and have never been given the opportunity to shine. And I don't mean only Cuban music. In the entire world there's an immensity of musical elements that have never been thoroughly explored."
Ferrer draws upon the wordplay, idioms, and social commentary of the Nueva Trova movement of the 1960s, but creates his own style called changüisa, drawing on diverse traditions from various rural regions of Cuba. The style is based on the changuí of the mountains of Guantanamo in Cuba's East and mixed with trova espirituana from Santi Spiritus and coros de claves, two styles from Central Cuba where Ferrer was born.
The title of his new album, Natural, comes from a song called "Pelito de mi bigote" or "That little hair in my moustache." After paying homage to his own little ingrown hair, he sings:
Maritica has a mole,
On her face, as you can see,
And another one under her shirt
Big and round like a fruit.
Oh, women, gorgeous women;
I like them natural
Simple as they come.
On another song called "Word Soup," Ferrer sings, "They say that tough guys don't eat soup / But from what I can see, they certainly do / A little noun soup, a little gibberish soup."
Ferrer adds a large spoonful of hallucination and independent thought to his own bowl of gibberish soup on Natural, making him one of the few voices connecting American ears with new Cuban compositions rooted in tradition, and with the revelation that being Cuban does not always mean choosing between the "either" and the "or" of political ideology.