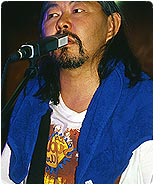 Stolen Passports, Deportation, and Mob Shakedowns: Tuva's Yat-Kha Recovers with Electric Guitar and Supersonic Bass Voice
A couple of years ago, Albert Kuvezin, leader of Tuvan roots-rock band Yat-Kha, fell on seriously hard times.
After a string of misfortunes worthy of an action movie—including stolen passports, forcible deportation from Hungary, mob shakedowns, and a car crash—Kuvezin found himself recovering from injuries in a hospital in Tuva. Yat-Kha had gained fans worldwide, played major festivals, and won a BBC Radio 3 Award, but the band was now in limbo. A crucial U.S. tour had just fallen through, in part due to the passport fiasco. Kuvezin was left with little solace save his collection of rock and blues records.
The songs he blasted while convalescing took Kuvezin on a musical journey so compelling that he knew he had to record his own versions of them. He was due to lay down a new album in London, but instead of the originals he had been working on, he decided to revisit and rework the music that had carried him through those tough days. All in his unforgettable double-bass, lower-than-low throat-singing style and using his unique approach to traditional Tuvan instruments like the yat-kha, the long, koto-like zither that gave the group its name.
For Kuvezin, the tension and resonance between rock and Tuvan traditional music were more than just a temporary comfort in a time of trial or a wacky novelty project. They were leitmotifs that had defined his entire life. At the beginning of his career at the end of the Soviet era, the ideology department of the Tuvan Communist Party was less than thrilled when Kuvezin picked up the electric guitar and started singing. As a little boy, he had been thrown out of the choir and told to never sing again.
It wasn't until the sounds of Deep Purple, Black Sabbath, and Slayer reached his homeland of Tuva—a remote area of southern Siberia nestled between the Altai and Sayan Mountains—that Kuvezin found the musical bridge between his voice, his heritage, and the universe. These same sounds helped him once again, this time on the road to recovery and eventually to Yat-Kha's latest album, Re-Covers (release date: August 8, 2006 on World Village).
Kuvezin's special style of throat-singing had all but died out, and it was the combination of this impossibly deep overtone singing with his progressive punk sensibility that set the stage for Yat-Kha. Tuvan throat singing reached the American consciousness in the early 1990s largely through the recordings and performances of Huun-Huur-Tu, of which Kuvezin was a founding member. Feeling trapped inside their markedly "folkloric" style, Kuvezin decided to deploy the ethos of perestroika/glasnost-induced spring-thaw punk rock explosion he had experienced in the city of Sverdlovsk (today's Yekaterinburg) in the late 1980s.
Drawing on these two sets of roots, Kuvezin crafted a completely new world for the rock, blues, country, and folk tunes on Re-Covers, where the contours of the songs remain but the spirit is pure Tuva. It's as if Captain Beefheart had rehearsed on the banks of the rushing Kemchik River, or Kraftwerk had opted for the Trans-Siberia Express, or Motörhead had hung out a lot at the Kyzyl House of Culture.
Recorded in London, the album was produced by British musical agent provocateur, world musician, and Billy-Bragg-supporting-player Ben Mandelson, with a little help from Justin Adams, who plays guitar with Robert Plant and who made a name for himself as producer for Tuareg rock band Tinariwen. Along with Kuvezin's zither and voice, Re-Covers features the drums of Zhenya Tkachov, who grew up as an Old Believer, the religious dissidents who fled European Russia centuries ago for remote areas like the upper waters of the Kaa-Khem river in Tuva, where they have lived for generations. Persecuted by officials, this cultural group has preserved the old language, traditions, and way of life forgotten by most Russians. Tkachov has performed with the Tuvan State Symphony, played in several popular Tuvan bands, and can now add Stones and Zeppelin covers to his varied musical résumé.
Re-Covers is no anomaly. Despite some irrepressibly hilarious moments, the album continues Yat-Kha's serious quest for Tuvan roots music that can kick out the jams, this time by showing that this seemingly remote region is very much part of the growl and pulse of world rock. Yat-Kha will take their musical journey on the road for a September North American tour.