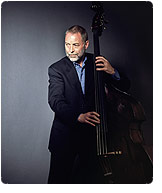 Confluence, Conversation, and Critical Mass: Dave Holland in a Defining Moment
Dave Holland is in constant dialogue with the jazz tradition, always attempting to take what he's learned over his career and make it relevant today. These experiences are reflected on Critical Mass, the first new Dave Holland Quintet album in over three years (Release Date: August 29, 2006 on Dare2/Sunnyside). "I really try to bring together all the things I have learned and all that have been a part of my experience," says the double-bassist. "I represent those things in the music I play."
Perseverance. Perseverance and consistency define the musical development of Holland's career, which reaches a milestone this October when Holland turns 60. "I feel very fortunate that I've been able to persevere for so long," reflects Holland. "In the difficult times, when you find yourself struggling against the challenges of the music industry, and your rent's due, those are times when you are tested. Each musician has to make their own decision about how they want their music to serve. When you make the commitment to stay true to your musical voice instead of giving into the temptations of some fantastic offer… that is when your music gets stronger. That's something I see as a positive result of this commitment: renewed energy. In the end people do recognize that commitment."
A working band. One jazz tradition that Holland emphasizes with the Dave Holland Quintet is the idea of a "working band," an ensemble that performs and records together regularly over an extended period, something that has become more challenging to do in an era of big-name soloists or all-star concerts and recordings. "A true band creates continuity and the chance to build on something," explains Holland. "You can create a language and style that is particular to the group. It accommodates the individual styles of the players in the group and gives them a vehicle to realize their language and vision. The part of the music I love very much is the communal part and the sharing of ideas."
Confluence and composition. Holland penned half of the tunes on Critical Mass. "The Eyes Have It" refers to Holland's granddaughter, whose eyes remind Holland of her father (his son). The spirit of New Orleans is conjured up on "Easy Did It." A visit with oud-player Anouar Brahem inspired "Secret Garden," which Holland says "draws a little bit on some atmosphere of the Arabic tradition." Meanwhile, the up tempo "Lucky 7" gave the ensemble a chance to explore meter and melody.
Dave Holland, as a leader, encourages his musicians to contribute their own compositions for the band; each of the Quintet's other players wrote a composition for the album. Saxophonist Chris Potter contributed "Vicissitudes." Drummer Nate Smith, who joined the Quintet in 2004, wrote "The Leak" for his first recording with the band. Trombonist Robin Eubanks offers "Full Circle" and vibraphone-player Steve Nelson contributes "Amator Silenti" which is Latin for "one who loves silence." All of the tunes were road-tested in live performances for more than a year before being recorded.
Bass player as leader, leader as supporter. Holland leads his Quintet in a way that is consistent with the role of the bass in jazz as a whole. "I've tried to maintain the supportive role of the instrument and at the same time expand it so it has more active dialogue with the other instruments," says Holland, whose aim as a leader is to accommodate the individual styles of the players in the group and give them a vehicle to realize their own language and vision. "Someone will write a piece," Holland continues, "but it only starts there and everyone puts in their ideas and how they are going to interpret it. Those are all things you want to do in a supportive way; not vying for attention and competing with each other."

Dialogue across generations. Members of Holland's Quintet range in age from 32 to 60, continuing the jazz tradition of dialogue across generations—a trademark of such jazz greats as Duke Ellington and Miles Davis (Holland, of course, was one of the young musicians who performed on Miles' legendary Bitches Brew sessions). "It's been a longstanding tradition in the music for multigenerational things to happen," says Holland. "I benefited from that as a young player. And now for me the energy and new ideas that a young player brings to the music can be renewing. There's an interaction that happens between the generations that is important to maintain, and yet you do find some people only working with musicians from their own generation."
Musical conversation. The communication between players is what attracted Holland to jazz from the beginning. "We're still maintaining the aesthetics of the New Orleans style," explains Holland. "We take turns picking up an idea and throwing it back and forth, complementing each other, as opposed to having a soloist in front of the rhythm section regardless of what everyone else is playing. My love of the music comes out of the interactive thing, how the different parts of the group and different players intersect."
Innovation within tradition. The Quintet takes its place in the larger musical development of the jazz world in the last 20 years: the evolution of different types of rhythmic structures and forms. "We've delved into rhythmic traditions from various parts of the world," says Holland. "From Indian classical music, African music, music from all the African diaspora: South American, Caribbean. These all fall in a palette from which I draw on as a player."
"We're also integrating styles and rhythms that you hear in contemporary music," Holland continues. "Hip hop, rap, R & B… the innovations in those areas of the music. And this is historic with jazz. Jazz has always taken whatever the contemporary music of the day is and integrated it into the language. It happened when jazz musicians took Broadway songs and made them into standard tunes. Now more musicians are writing original music, and integrating contemporary aesthetics and styles. We use a lot of references to contemporary rhythmic feels. And, of course, I see the music as both going back and forwards."
A defining moment. In the final listening sessions, when the album was done, Holland thought about how much went into the record: a year and a half playing together as a quintet, discussing the music, taking it apart, experimenting with it, trying different things. "At a certain moment, the music has attained a point where it has become what it's going to be!" exclaims Holland. "It will continue changing, but it has reached a turning point. It demands to be. When you talk about something reaching critical mass, it has finally reached a point where it just has to happen." Which is not too different from Holland's career as a whole. The bass player, the band leader has reached a defining moment. The artist demands to be.