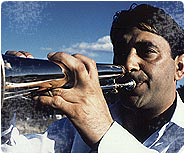 Serbian Burning Brass Sets Miles' Ears On Fire


Let Your Ears Simmer to the Boban Markovic Orkestar
"I didn't know you could play the trumpet that way"
—Miles Davis, upon hearing the Guca Brass Band Festival
The thumping tubas, break-neck tempos, and burning trumpets of the Boban Markovic Orkestar represent a sound that is a far cry from Gypsy brass' Turkish military band roots. Markovic's unique brand of Gypsy-Serbian brass music is a product of over one hundred years of Gypsy-induced transformation, becoming some of the most recognizable Eastern European music to make its way West.
The new Boban Markovic Orkestar album, Live in Belgrade, due out on Piranha Musik October 8th (distributed by Harmonia Mundi USA), showcases the live intensity that many have already witnessed. Their music was first introduced to Western audiences through Emir Kusturica' s films Underground and Arizona Dream. Boban and his ten-member Orkestar have been Serbia's leading brass band for the last ten years, consistently winning awards at the annual Guca Brass Band Festival.
Going into its 42nd year, the Guca festival is by far the largest of its kind, bringing over 300,000 people from all over the world to the tiny Central Serbian town. The extreme level of partying and revelry that accompanies the festival compliments the scene of fifty or so bands performing and competing over three loud and drink-filled days. The voluminous intensity of the music performed at Guca prompted Miles Davis' surprised reaction. But for Markovic, who has already won several top awards, the festival's competitive nature no longer serves his interests.
"I'm past this," Boban told the New York Times. "I write most of the songs that other bands play. I've won the contest many, many times. The problem is that the jury still wants me to play like I did 15 years ago. But I want to be more innovative and play more modern stuff. So I'm not going to compete this year."
But, he ended up competing and won top honors at the festival anyway.
Markovic's attitude concerning the development of brass band music is consistent with the history of the style. Rooted in early transpositions of popular folk tunes, Gypsy brass band music began with the introduction of the trumpet to Serbia in 1804, during the Karageorge uprising. Used as a tool for communication amongst Turkish soldiers, the trumpet was eventually picked up by Gypsies, who incorporated their own intricate rhythmic sensibilities into the style, bringing the music closer to the ecstatic, danceable form that is heard today.
Gypsy brass band music is characterized by rapturous arrangements stuffed with beautiful, yet rocking, melodies against an often-pounding low-end harmonic backdrop, which, in spite of all the dizzying intensity, remains as Frank London describes it, "the unmistakable essence of funk."
Now, with even more emphasis on creative flow between Balkan nations, groups like the Boban Markovic Orkestar are working to push the music further. Through collaborations with the likes of Frank London and others, elements of New Orleans, klezmer, and jazz are infused into Markovic's work, helping to transplant the raucous atmosphere of Guca into your living room.