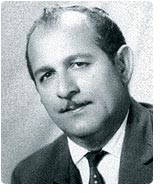 Prepare for the Inevitable End of Your Love: Women Fall for the Falsetto of the Bygone Songs of Dona Dumitru Siminicã
I was happy/but to complete my misery/I suspected nothing/I was having too good a time/next to her/I didn't notice/that she loved the other man. — from "La Salul Cel Negru" ("The Black Scarf") sung by Dona Dumitru Siminicã
Despite the plaintive scenes depicted in Romanian Gypsy Dona Dumitru Siminicã's songs, women went wild for his high-pitched falsetto singing style, in much the same way that Italian opera audiences went crazy for the weirdly androgynous vocal timbres of castrato singers. Combine the soulful, sad tales that are the bedrock of blues with the faux-female sonic qualities of Tiny Tim, and you have some idea of what your ears can expect on Sounds From a Bygone Age, Vol. 3, the latest installment of archival recordings re-released on Asphalt Tango Records documenting the great Romanian Gypsy musicians.
When Dona Dumitru Siminicã went to one of the Electrecord studio recording sessions in Bucharest with his favorite accordion player and a fellow violinist, but without the requisite bass player, he only had to go as far as the nearest pub by the old market halls to find a replacement. Such scenarios were not unheard of in the Romania of the '60s. Even the dream team of Gypsy musicians that Siminicã had surrounded himself with for these recordings came from the same everyday settings that defined the great tradition of Gypsy lautari playing, and from where Siminicã ultimately found a last minute sub: cafés, dimly-lit restaurants, and especially wedding parties, after which musicians would retreat to a pub to drink away their earnings.
The result of Siminicã's Electrecord recording sessions captured on this third volume features the distinctive high falsetto of Siminicã, one of the few lautari who was equally respected by Romanians and Gypsies alike because he could sing songs from both communities. Likewise, the album features songs in both the Gypsy language (like track 13, "Osoreia Osbaro") and in Romanian. Widely regarded as the greatest singer of muzica lãutãreascã, or quiet suburban songs, Siminicã's tales of love lost set a somber, melancholic mood for café and restaurant patrons.
In the same mold as Volumes 1 and 2, Sounds From a Bygone Age, Volume 3 continues to relay the untold stories of the Golden Age of Romania's professional Gypsy musician class, typically referred to as lautari (which technically simply translates as musician, though there is an implicit understanding that these are Roma musicians). Often their stories intertwine: Siminicã lived in the same yard growing up as the infamous Gore brothers (accordionist Aurel and violinist Victor), with whom Siminicã later played with at weddings and who were cousins of Gypsy queen Romica Puceanu, the songstress featured in Volume 2. And though it was Siminicã's trademark, the high-pitched falsetto singing style was also used to some effect by fellow lautari violinist Ion Petre Stoican, the spy-catcher-turned-recording-artist who assembled a virtual who's who of lautari musicians for the only recording he ever made (Volume 1). Among the musicians Stoican assembled was the legendary trumpeter Costel Vasilescu, whose father took him to the weddings that eventually became the social milieu for the performance of his distinctive velvety trumpet-playing style.
Like Vasilescu and so many other Gypsy musicians in Romania at that time, Siminicã's musicianship and talent came from family members (in this case, his father) and also from the influence of the tightly-knit lautari community that were called on to play at various social occasions in Bucharest and elsewhere. While the stories of Sounds from a Bygone Age are told mostly through the memories of Costel Vasilescu, listeners of Dona Dumitru Siminicã's Volume 3 have the chance to hear the pensively sad, melancholic side of the Bucharest lautari scene. Be prepared to be taken on an aural journey of suffering and hardship, and be particularly careful if you are among the newly smitten. Sounds from a Bygone Age, Volume 3, may prepare you for the inevitable end of your love.