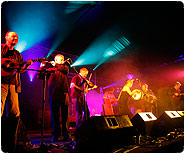 The Euphoria of Traditional Irish Band Dervish:
North American 2013 Spring Tour
The members of traditional Irish band Dervish met as most Irish musicians do: as strangers in a bar.  "I'm a farmer's daughter," says singer Cathy Jordan, "and someone else in the band is an architect's son. Outside of music, we may have never met, but this is how Irish people have forged unlikely friendships for years, playing music together."

"In Irish music, there are three elements: goltraí, so sad it brings tears; geantrí, so lively it makes you want to dance; suantrá, so soothing you want to sleep. At a Dervish concert, you experience all three and it leaves you exhilarated!" proclaims Jordan. North American audiences will have a chance to be transported during Dervish's 2013 Spring Tour. 

Mandola-player Brian McDonagh saw a documentary about Whirling Dervishes and found the parallels between the devotional art form and Irish musicians similar. "Dervishes are usually a group of poor but spiritual people enraptured by music," explains Jordan. "They spin around and become entranced by the music. As the spinning progresses, the dervishes reach a higher level of being. Similarly, in a traditional Irish session, people may meet for the first time through the common bond of music. As the night progresses, a euphoria builds and lifelong friendships ensue." The name Dervish was meant to be an album, but it stuck as the band's name.

The Sligo County band's sound is characterized by Jordan's distinctive voice combining with the compelling contrasts of the low-range bouzouki and high-range mandola and their powerful rhythmical backing of accordion and guitar. Fiddles, whistles, flute, bodhrán, and harmonica round the band out for its full effect.

Dervish searches high and low for new material, old melodies, and lesser-known lyrics. "It comes to us in different ways," explains Jordan. "Sometimes at a session an old man sings a tune we've never heard. We have a great rapport with the Irish Traditional Music Archive in Dublin, where there are vast collections of the old manuscripts and the earliest recordings of Irish music. Sometimes we find things on TV, on the radio, or on records." The search for material is simultaneously part of preserving history and making traditional music relevant to today.

When Jordan was asked to sing at Bob Dylan's fiftieth birthday party in Dublin, musicians paid tribute by performing his songs. As a result, her choice, "Boots of Spanish Leather" was added to Dervish's repertoire and has become one of their most requested songs. In exploring other contemporary songs with folk sounds, the band discovered Cher's "Gypsies, Tramps and Thieves" and Dire Strait's "Brothers in Arms" which sound perfectly at home in a traditional Irish treatment, and alongside Dervish's modern arrangements of traditional tunes.

"It's a funny thing, but Irish music is one of the oldest forms of music, yet it is influenced an awful lot by other things," explains Jordan. "It evolves and evolves. Our sound is very recognizable because of the bouzouki and mandola. And though we have a modern style within the Irish context, you might not say it's really modern because it blends in so well. But in actual fact there are a lot of modern influences in there."