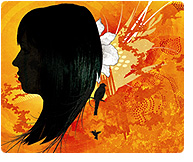 From Gritty to Chic: TangoJointz Matches Beats with Argentine Sensuality
From the shadiest corners of 19th-century Buenos Aires sprang the sinewy, aggressive movements and music of tango. The tango's sexual, desperate songs and dances became synonymous with sensuality, especially after they became the risqué rage of European salons and Hollywood heartthrobs in the early 20th century. Tango became a global craze and went from raising the spirits of petty street pimps to raising eyebrows worldwide.
Now, at the beginning of the 21st century, the fire and challenge of tango may seem worlds away from the cool pulse of electronic music. Yet, Tango Jointz, the latest project from Grammy-nominated producer Claus Zundel and a group of talented Argentine performers, reveals the magical affinity between these musical forms, both of which went from gritty to chic, from low life to high fashion. On Palermo Nuevo (release: February 20, 2007 on Escondida Music), Tango Jointz combines a cosmopolitan downtempo vibe with the breathless passion of the apex of Argentine tango, the masterpieces of Astor Piazzolla, as well as some tributes to jazz greats Chet Baker and Miles Davis, just to keep listeners on their toes.
Like the bordello bards at the advent of tango, the creators of the first electronic dance music worked sometimes seedy underground parties in cities like Detroit and Chicago. By the late 1980s, the center of the international electronic dance music scene had moved to Ibiza, a small island off the southern Spanish coast, where a new style of DJing mixed with a countercultural vibe reminiscent of the flower power days of the 1960s. Ibiza became the place for hardcore hippies and jetsetter hipsters to dance to techno, house, and later electronic music incarnations until the sun came up. Along with raves and various other techno and house events in major European cities, the Ibiza scene became closely associated with drug use and other excesses. Though Ibiza has been relatively welcoming of its fame, the scandalous association of techno and drug decadence led to bans on raves and outdoor techno events in the UK and elsewhere.
Now, however, electronic dance music has gained the same respect and mainstream legitimacy as once-shocking tango eventually achieved, thanks in both cases to the talented musicians and producers who have made sweaty soundtracks into high art. Zundel's own career path has mirrored this evolution. After a less-than-satisfying career as a high-powered hit maker in the 1980s, Zundel moved to Ibiza to recharge his batteries and find a new direction. He found it in flamenco and crafted a series of multi-platinum projects with local guitarists and musicians under the B-Tribe moniker.
Zundel's musical curiosity has taken him from Spain's beaches to Argentina's milongas, the salons where people still flock to dance tango. Tango is currently undergoing yet another transformation, experiencing the same kind of change as the barrio of Palermo, the namesake of TangoJointz's debut album. The former home of Jorge Luis Borges and Che Guevara, Palermo, where leafy parks and lofty mansions stand in sharp contrast to the low stucco buildings of the barrio's working-class quarters, is now Buenos Aires' hippest neighborhood, filled with boutiques, art galleries and bars catering to local bohemians and global travelers.
The spirit of this revitalized neighborhood runs through TangoJointz's cool beats and sultry songs. Tango Jointz is about taking tango's dark, sultry past and filtering it through the contemporary cosmopolitan creativity of global art and fashion.