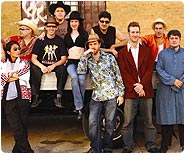 Funked-Up Immigrant Brass Meets Brooklyn Beats: The Original Analog Sound System of Slavic Soul Party!'s Teknochek Collision
Before there were DJs and sub-woofers… before there were Casios and Yamahas… before P.A. systems and amplifiers… there was the original analog sound system; the all-mobile, hear-it-from-miles-away, earth-shakin', party-startin', all-night brass band.
"I don't care what culture or what part of the world you are talking about," says Matt Moran, drummer and leader of Slavic Soul Party!, whose Teknochek Collision will be released by Barbès Records on April 3, 2007, "brass bands play an incredibly powerful, mobile, unamplified music. There is something awesome about having a band that can be so loud and so riotous run simply by human lungs."
But don't be fooled by Moran's case for untainted horns. Slavic Soul Party!'s upcoming new album represents a new era for Balkan brass. The nine-piece monster band has scoured tradition, from five New York boroughs of immigrants all the way to the former Yugoslavia's small town brass festivals, in search of underexposed "messed-up" rhythms and "twisted" harmonies only to turn them inside out and make them their own; all the while keeping the essential brass band tradition of moving their listeners, literally and figuratively, with a live and direct sound.
"The fact that you can move with people literally from the altar to the reception, from the graveyard to the house, from the street to inside the club…. That whole thing is incredibly powerful and speaks to people in a whole different way," Moran explains. "There is no technological barrier, no distance between musician and audience. The very nature of the band says, 'We are with you.' In this day and age, powerful acoustic music can be inherently subversive."
Moran and many in his crew come out of New York's downtown jazz scene. "There was a time when I was losing touch with the fact that as musicians we are supposed to be helping everyone else get through their lives," proclaims Moran, who is known for his parallel life on vibraphone. "I have come to value expression over originality. I value moving people, transporting them, helping them… over 'check out my new shit that no one else is doing.' I say: let's make some music together that is really going to be heart and feet music and help people."
"I started the band as a quintet and the transition to the current nine-piece band came as I was expanding on that idea," Moran explains. "'How can we make the most transporting, most ecstatic experience?' I was thinking, 'This is great: we have these beautiful lilting, off-kilter sounds, but it needs to be bigger!' So I made the band bigger and we put out an album called Bigger… and it was bigger!"
While Bigger was recorded in three and a half hours and gave listeners a sample of what the band feels like live, Teknochek Collision—which takes its name from a Queens auto repair garage run by the Serbian-Gypsy-American filmmaker and culture worker Gus Dejan—gives insight into how the band members think and shows more of their influences. They take everything from Moran's little-kid memories of sneaking up the back stairs to eavesdrop on his Serbian neighbor and his international folkdance work and playing with longtime NYC brass band Zlatne Uste, to the SSP sax-player Oscar Noriega's childhood playing Mexican music in the American southwest and the rock influences of the Japanese former-rocker/drummer Take Toriyama and the punk-tuba playing of Ron Caswell, to the endless ringtones and video games surrounding us everyday. It all collides together to form something paradoxically xotic and familiar.
In the former Yugoslavia, women have come up to Moran in tears saying things like, "It is so much better to bring music than bombs!" While the band has worked hard to show respect for tradition by doing their best to capture the feeling of Balkan music, they have not only come to terms with, but embraced, the fact that their New York origins and life experiences give them a unique voice. After one Serbian festival performance, where SSP hoped to show how well they had mastered the Balkan sound, Moran asked Cerim Becirovic of the respected band Vranjski Biseri what he thought. He replied, "You play very excellent, but it's a very different style than us."

Serbian players are often surprised to find out that drummer Moran—whose instrument is the bubanj (pronounced BOO-bon-yuh), a sort of mobile drum set with bass drum, snare, and cymbal—writes and arranges most of the music. But there are several factors that give SSP a unique sound. "As Americans, everything we play is subtly different," Moran explains. "We have aspects of hip hop in our sound. We have some unique pulsating grooves and low brass and use more space than a band from the Balkans. Many of us are jazz musicians, so our soloing might come less from the maqam side of things and more from the jazz side. Half our tunes are original and we play a lot of tunes that are American, gospel, or from the New Orleans second line tradition. I call what we do 'neighborhood music,' not 'world music,' because of the influences of our neighborhoods."
'Neighborhood music' and the unplanned, unexpected results that emerge from immigration, proximity, and globalization are nothing new: from Mexican banda to the British Invasion's adaptation of the blues, local musicians have drawn in foreign sounds to make new styles.  An emerging generation of musicians in New York — bands like Antibalas, Las Rubias del Norte, Slavic Soul Party! — carry on this untraditional tradition of cultural adaptation, not as an academic pursuit, but as a simple outgrowth of creative exploration, a long-time engine of pop music development.
For a brass band to include accordion is rare, but Slavic Soul Party! doesn't stop there. Peter Stan, a Serbian Gypsy accordionist who grew up in Queens, has heavily influenced the band's sound. The band breaks tradition by "brass banding" (or is that "brass branding"?) squeezebox harmonies, comping patterns, and even repertoire. One of the band's signature sounds is the Gypsy drajv style of accompaniment (from the English verb "drive"), associated with accordion and guitar but unprecedented in Balkan brass.
California singer Eva Salina Primack, who sings on two songs on the album, is sought after by Balkan communities to sing their music. She has a blend of Balkan and Rom styles, and the skill and confidence to interpret Balkan and Rom anthems in a rooted yet original way.
Teknochek Collision—as an album and as a name—captures so much about Slavic Soul Party!. Çoçek (pronounced CHO-chek) is the Romani word for song or dance. Tekno is the era, the context of our life experience, and a defining sonic influence of the day. "There are so many things colliding in this band… beyond people and drinks and bodies," Moran exclaims. "There is the Balkan and the American, the Gypsy and non-Gypsy, the acoustic versus amplification. It's a beautiful metaphor for us with many layers. But in the end it's as simple as the impact of the sound on people's ears."