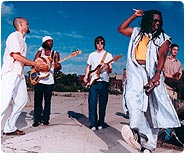 New Antibalas CD Talkatif Politicizes the Dance Floor & Breaks Your Foot



Ask Martín Antibalas, founder and baritone sax player for Brooklyn's hardest working Afro-beat collective, what happens at the band's weekly concerts.  "The music definitely unleashes the inner freak," says Martín.

That's what happened when Antibalas Afrobeat Orchestra reluctantly agreed to play a wedding for two of their fans. "The family was asking us beforehand if we take requests," laughs drummer Phil Ballman. "They were a little worried that we weren't a regular 'wedding band.'"

But their hesitations were soon drowned out by the massive, rich sound of Antibalas' music. The mother of the bride danced so hard that by the end of the gig she was carried out with a broken foot. "I haven't had this much fun in years," said the splint-wrapped matriarch, as she was loaded into a taxi. "You guys are great!"

With well over 200 shows under their collective belt since finishing their last full-length effort, Antibalas releases Talkatif (ZENCD66 / ZEN66), on March 19, 2002. It's their second recording on Ninja Tune, and you can hear the results of the non-stop gigging—the 15-piece band is tight as a whip-crack. The disciplined rhythm section stays focused throughout and the soloists go and do their thing only when it's their turn to kick it. The compositions in Talkatif are a true testimony of the band's relentless dedication to preserving the unique and pure soul of Afrobeat.

Antibalas ("Bulletproof" or literally "Anti-bullets" in Spanish) maintains their political stance in this record, by denouncing the powers that don't empower but rather try to maintain society in a controlled, fake, and subjugated state. Their songs are floor scorchers and keep the dancers in the pocket, but the social commentary is ever-present in most of their tracks as a reminder that there is nothing wrong in having a good time while using the stage or the floor to bring awareness and action to the masses.

As the liner notes say, "No amount of money, violence, or good intention can make the world a better place. For true change to happen, the hearts of each and every human being must evolve. Respect and understanding must replace greed and egotism as the fundamentals by which we live. Talkatif is dedicated to people all over the earth who create positive change by changing themselves."

As a monument to what people can accomplish when they put their mind into something positive, Talkatif was recorded in their self-made basement headquarters studio in Williamsburg, Brooklyn, with the now legendary Desco/Daptone Master Gabriel Roth on the co-producing and engineering end. Recorded with warm, extra-thick-analogue tape, their trademark, home-brewed quality is felt in every cut and the album is a consolidation of Antibalas' reign as one of the few keepers of authentic Afrobeat sound.