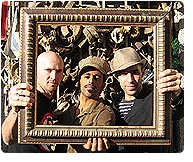 The Fatal Combination of Riot Makers, Knob Twisters, and Digital Monkeys: Balkan Beat Box Obliterates Nationality & Unleashes a New Mediterranean
The members of Balkan Beat Box do not believe in flags, nationalities, or borders. Between the funked up beats, compelling rhymes, and dubby echoes on their new album Nu Med on JDub Records, there is a whirlwind of traditions smacking up against the shores of New York.
"We believe in listening to localities… to local music," says BBB co-founder and saxophonist Ori Kaplan. Nu Med is a musical vision of what the New Mediterranean would sound like if borders were removed. Musical connections are made by BBB that politics often keep separate. Jewish, Balkan, Arabic, Syrian, European, Moroccan, and American are united by hip hop beats and dancehall toasts. But this musical nomadism continually returns to the Gypsy sound.
"My family was running away in Eastern Europe for generations, trying to find a peaceful land to rest in," says co-founder, drummer, and knob-twister Tamir Muskat. "But I think the journey put certain genes in my body, the ones that put you on the go, moving and collecting influences all the time from all over. That's Gypsy for me. An energy."
"Because Jews and Gypsies lived in the same countries through the years, Jewish and Gypsy music are cousins'," explains Ori, whose saxophone teacher in Israel was a Bulgarian that studied in a Gypsy village. "We roamed through the same countries. We play each others' songs. We have been through the same persecution and pain."
The musical hitch-hiking continues as Tamir mixes things up with hip hop, dub, and electronics, juxtaposed with ancient Arabic, Moroccan, Gypsy, and Mediterranean melodies. The band's uncategorizable sound gives equal weight to soulful acoustic timbres and digital rhythms creating a uniquely organic sound with electronic elements. MC and percussionist Tomer Yosef rounds out the band with his dynamic stage(-diving) presence and multilingual rabble-rousing. "Tomer is the riot maker," says Ori.
All of this combines to create a live experience that blew the roof off the late night "burlesque" tent at Bonnaroo, who released on their website BBB's performance as one of only ten live acts from the 2006 festival. The group also headlined and sold out Central Park Summerstage, bringing along a 40-person samba troupe; toured with Matisyahu last March; played such prestigious festivals as Montreal JazzFest and Chicago SummerDance; and has attracted a diverse and cosmopolitan following similar to MIA, Ozomatli, and Gogol Bordello (of which Ori is a former member and Tamir is a former producer).
Their countless concerts and road tour battle scars have paid off on this second Balkan Beat Box album. The BBB live experience was created after their first self-titled album was released. Nu Med brings the energy of their intense live show into the studio for the first time. "What makes it a dance floor experience are the beats combined with soulful melodies that want to make you move," says Tamir. "That's a fatal combination for us."
For the album, BBB draws on a roster of unexpected guests. Gilber Gilmore—who works in the garment industry by day—dropped a powerful Moroccan melody from his childhood on "Pachima." London Bulgarian Choir's Dessislava Stefanova emailed the band an a cappella duet around which BBB built "Joro Boro." The contribution of 22-year-old Macedonian clarinetist (and Juilliard first chair) Ismail Lumanovski can be heard on "BBBeat." Three songs on the album feature a trio of stellar underexposed Gypsy musicians from Queens, while Damascus' Dunia, who normally sings in a traditional Egyptian style, pushes the limits of her typical repertoire with a rare Arabic rap.
"The most painful part of the situation in the Middle East is that there are places like Syria that have this amazing culture and amazing people that are only two hours away from us in Israel," says Ori. "We always want to reach out, but we can't. But here in NYC we can create our fantasy world. The BBB sound had to be created in New York, because it couldn't be created there."