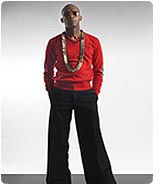 The Electro Vodou of Erol Josué: The Prince of Haitian Roots Music
Erol Josué's debut album, Régléman, on Mi5 Recordings/Caroline Distribution/ EMI Music, is a musical mirror of the vodou ceremonies he now conducts in New York's Haitian community. The album title refers to the protocol not only of the vodou ceremony, but of the way a practitioner lives their life. But don't expect Régléman to be a field recording. It's not. The "electro vodou" sound, as Josué likes to call it, is an abstract musical rendering of his ceremonies. Vodou is one of the most misunderstood spiritual traditions in our society. Josué's music and life is dedicated to shedding new light on this way of life.
At age 17, Josué was initiated as a houngan, or vodou priest. Josué's mother is a vodou priestess and his late father—to whom the album is dedicated—was a vodou priest. Like a ceremony, the recording starts with voice and drum. The opening song "Hounto Legba" presents a conversation between Hounto, the spirit of the drum, and Legba, the god of wisdom who opens the gates for all the spirits to enter the ceremony. The song "Madam Letan" represents a pouring of the water on earth. "For us, for vodou, for all society, water is a very important element," Josué explains. "Madam Letan is the mother of water, and the mother of humanity and life, so we thank her. We pay tribute to life and the celebration of life."
Though Josué has created an album with many layers of meaning, the listener need not know that to enjoy it. Josué weaves Haitian roots music with a variety of unexpected sounds. Though each song stands on its own, they flow seamlessly as if they were a soundtrack following a storyline. Some of the songs were inspired by compelling stories from Josué's own life.
The song "Garcon Solide" was inspired by an experience while acting in "Royal Bonbon," which was filmed at a lake in Haiti. Josué warned the filmmakers that they must seek the permission of the spirits of the lake before filming. "They thought I was crazy," remembers Josué, "but eventually they relented and agreed to have the proper benediction conducted." Months later during the filming of the scene, Josué nearly drowned. The film crew thought his flailing was part of the act and it was only because of a gut feeling by a film crew member who finally jumped in to save Josué that he survived.
Seven months later Josué came back to the lake. "I was feeling something bad," Josué says. "I needed to ask my spirit what happened. The lake was not deep, so I was questioning myself." That night someone invited him to a vodou ceremony. "I fell asleep on the way to the ceremony and the next thing I knew somebody shook me awake," remembers Josué. "I wake up and see a woman who was possessed with a spirit that is calling to me. The spirit said, 'You came from far away to find something. I have a gift for you.' And it sung that song. It goes, 'You almost drowned in the water, but you are a solid man. Because you have spirit with you. Which is the king of your life. That saved your life forever. You are an old man, you are a big man.'"
Erol Josué is on a mission. Stereotypes of Haitian vodou crumble when Josué explains his spiritual traditions. Unlike most people this deeply engrossed in the vodou spiritual tradition, Josué was also educated in schools. "Most people who really practice vodou in Haiti live in the countryside" says Josué. "The Catholic Church is always trying to convert people in Haiti. In school, children are beaten if they do not speak proper French. But I had the rare privilege of maintaining my vodou spiritual life at home while attending Catholic school during the day. I never converted and now I can help dispel the myths about vodou. As an artist, I can help diffuse information about vodou in a way more people might understand." He also draws on the past to help people understand Haitian culture.
According to Haitian folklore, just as escaped slaves were overthrowing their French colonizers to establish the world's first Black republic, a ship of new slaves arrived from what is now called Benin. To this day their descendants practice vodou differently than other regions of Haiti and are renowned for an annual celebration around Easter that resembles a similar ceremony in Benin. Because of their direct link to Africa, the town there is called Souvenance (Souvenir, in English). On "Souvenance," Josué invokes Haiti's pan-African roots and sings, "Tell me where you are. I am looking for a different spirit. Tell me where you are. I kept a souvenir about you."
Josué also addresses problems that persist today. "Ti Moun Yo" points a finger at the abuse that children suffer if they do not assimilate and speak French and calls for the rights of children. On "Yege Dahomen," Josué uses the metaphor of the boat people, who make their way to Miami, to talk about the common plight of people of all religions and languages. It speaks of exile as well as ecological threats.
In France, anyone seen as a rebel or doing things differently might be called a malediction. Some think Josué was going against the grain when he moved from Haiti to Paris for thirteen years. Josué tells of his feeling of exile on his song "Malediction," which says, "I was born by the thunder. I was raised by the song. The moon lights my path. I am by myself. I was breastfed by a woman." Josué explains the lyrics, "You say I am a curse. I am not like you; I don't want to be like you. But still I am a human being." Though he may have left his homeland to find his own identity, he soon came to realize that his calling was to bring his culture, spirituality, and music to the world.
Like any spiritual sage, Josué has transformed his own exile into a gift. His spiritual faculties intermingle with his musical power and both are united to provide solace to his own community while building a bridge to others. "I did not create the album as a vodou ceremony, I am making music," explains Josué "But I am still doing the service for my spirit and my culture. On the album cover you see me touching my eyes, like I do when I start a ceremony. I always touch my eyes to go down into my soul to be open and ready for my spirit. When the drum comes I share that energy and open my soul and share it."