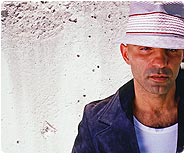 The Mambo Sensibility, Slow Funk Twitch, and Sun Drenched Wordplay of Jose Conde: A Fresh Afro-Cuban Wave Moves from Revolution to Evolution
Singer-songman José Conde and his New York-based band Ola Fresca are funkifying Afro-Cuban music with a global perspective and a groove accessible to both everyday music fans and Latin dance aficionados. His striking and timeless new album, (R)Evolución, on the UK label Mr. Bongo Records (May 15 digital release, May 22 CD release), brings together evocative stories with an old school vibe created on vintage analog recording gear in Brooklyn. Produced by Grammy-winner Aaron Levinson (Spanish Harlem Orchestra), (R)Evolución calls on a diverse group of special guests to join this tight alternative Latin session, including master New Orleans Funk drummer �Ziggy� Modeliste, Cuban trombone legend Generoso Jimenez (Beny More), Yerba Buena�s Pedrito Martinez, and salsa rave up Jimmy Bosch. The rootsy album breaks the rules of salsa while maintaining the genre�s original spirit of clave groove and innovation.
Born in Chicago and raised in Miami by parents who fled Cuba in the �60�s, Conde likes to tell people, �I feel en Cubano and I think en Americano. That's the core.� Conde goes out of his way to sidestep the politics of Cuba or Miami while simultaneously embracing his roots and his experience within the new context of America. The theme of his new album is to evolve beyond the �R� of Revolution, beyond change through violent means, beyond the Cuban Revolution, and towards an evolution of music, coexistence, good times, and preservation of the Earth. Conde draws on his life experience to weave together this vision.
�Growing up in South Florida I came into daily contact with the mix of sounds�son, funk, rock, rumba, Haitian compas, cumbia, guaracha�and to me it�s all one thing and can be intermixed at will and with taste,� explains Conde, whose band�s name translates as �Fresh Wave.�
�Miami is a multicultural mecca and my early influences before pursuing music include the tropical heat, the pervasiveness of water everywhere, and the serenity of the daily masterpiece: the south Florida sky, sunrise to sunset. My vocabulary of music comes not just from listening to other musicians. It comes from how my mother scolded me with mambo sensibility or how a sexy girl walks so rhythmically�a slow funk twitch�or how you pull up to a counter and order �un cafesito por favor.� It�s the feeling of a light breeze on your sun-drenched skin and the rolling murmur of the waves. This is all music and is what I listened to and observed unconsciously growing up.�
Conde�s musical travels took him to classical, opera, jazz, electronic dance, and beyond. When he got to Berklee School of Music, he collaborated with Latin American, European, and other international musicians. �I was suddenly experiencing much more cultural diversity and listening to music from all over the world,� Conde recalls. �I began to miss my own culture and identity. This, and the recognition of my natural attraction to rhythm, led me towards the thing that was always there for me: Cuban music. I delved into all things Cuban.�
After spending several years mastering Cuban music, Conde released an EP of lesser-known Cuban classics (Esencia, 2001) followed by an LP of original songs rooted in Cuban traditional music (Ay! Que Rico, 2004). �After that, I felt like I�d come full circle and I was ready to move beyond everything that I�d learned and mastered and mark my own new space in music in a way that would express my unique experience,� says Conde. �It was unconscious at first, but that�s how (R)Evolución started.�
Conde has always been attracted to the sounds and meanings of words. His love of poetry, prose, and semantic tone drew him to Whitman, Marti, Sting, as well as the rumba poetry of Cuban poet Nicolas Guillen, and the lyrical acrobatics of Cuban troubadour Pedro Luis Ferrer. The compositions on (R)Evolución play with language and rhythm in their lyrics and musical composition. But Conde proclaims �I never want my urge to say something new, to feel forced or �experimental.� The song comes first, because writing a great song is most satisfying. It is more widely appreciated and the song will outlive me.�
One song tells of �Pititi y Titi,� a magical and imagined Caribbean couple, who find each other in music and run off together in a traveling band. This tongue twister for adults and kids is in the Cuban guaracha format, which uses humorous wordplay, but is translated into French and clothed in a Haitian compas vibe. �Oshiri Pan Pan� is an ambitious experiment fusing Japanese and Cubafied Spanish lyrics. It has a mambo arrangement layered into a funk rhythm which highlights the Ola Fresca band and funk drum legend Ziggy Modeliste (of The Meters). �The Japanese phrase �oshiri pan pan,� or �papau duro� in Spanish, sounded like a song to me� in fact a mambo!� Conde says about the song whose title means �a good spanking� in English. �So I decided to experiment.�
Until the early �90�s, the term �salsa� came to symbolize great experimentation within the post-Cuban Revolution idiom but that ended with commercial popularity and radio airplay of a more formulaic and structured genre. (R)Evolución breaks a lot of rules for salsa records while retaining some salsa-esque influence. Conde explains, �Salsa music and dance is very structured with so many rules. I don't give a damn about those rules and encourage people to move their feet regardless of whether you can dance or not.�
Innovation on (R)Evolución lives primarily in the rhythmic fusions of �Café con Sangre� (Puerto Rican bomba mixed with funk and New York-style salsa), �Ride La Ola� (Afro-Cuban/funk), �Probando Nuevos Sabores� (Cumbia mixed with soca and reggae), along with instrumentation like electric guitar, organ, and funk drums not typically found on �salsa� or Cuban music records. Afro-Cuban vocal phrasing and conga rhythms fit naturally within funk drum, guitar, and horn accents. Cuban music, funk, and consequently Conde�s music are all in �clave.� Afro-Cuban conga, shekere, and bongo are juxtaposed with funk drums, guitar, and B-3 organ to create something new yet rooted in tradition.
Using the best combination of old and new gear, the analog recording process called on musicians to go for their best �full take� of the song instead of cutting bits and pieces of many �takes� together. This forced the musicians to pull their best performance from beginning to end of the song. The result is that (R)Evolución sounds warm and instantly timeless, a great ambience for Conde�s era-crossing compositions.
�Like many in my generation, I feel a need to preserve much of what is valuable in my culture,� Conde concludes. �But I also feel that culture is a constantly changing and evolving phenomenon and as an immigrant, I have a responsibility to seek out this new territory and express it in my music. Beyond that, while I value my culture, my priority everyday becomes more geared toward preserving the planet, a goal which is beyond boundaries of any nation or musical genre.�