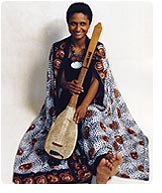 The Beautiful Scent of the Invisible Islands: Nawal�s Modern Sufi Chants and Indian Ocean Island Rhythms
If you have never heard of the Comoros Islands, it might be because they are often left off of maps. But the four islands--located in the Indian Ocean between continental Africa and Madagascar--have rich and diverse cultural and spiritual roots that can be heard on Aman by Comorian singer Nawal, where she creates modern era ritual. The album explores a variety of Indian Ocean rhythms combined with her Sufi heritage and contemporary songwriting. Nawal is the first Comorian woman to ever perform on stage publicly with an instrument, and her acoustic-accompanied song and trance-inducing chant can be heard live on her summer tour of North America in San Francisco, San Diego, Portland, OR, New York City, Los Angeles, Boston, Dearborn, MI, Toronto, London, ON, and Montreal, among others.
Nawal considers herself to have a "double culture" Comorian and French. When she was a child, her birth country was a colony of France. In 1975, when Comoros became free, politics retained a revolutionary feel. Like many in the middle class, Nawalï's mother didn't like the emerging politics. One year later, at age eleven, Nawal moved with her family to France.
Nawal comes from a musical family and began playing guitar when she was six years old. All her uncles on her mother's side played music including the songs of Jimi Hendrix, The Doors, and Pink Floyd. Though many Comorian women play instruments at family celebrations, births, and deaths in their homes with family, they never play in public. "When I was born, my mom went to see a religious master to get my name," explains Nawal. "When they chose Nawal, the elder said, 'She will be an artist.' So maybe I didn't have a choice." In the end, Nawal was forced to leave her family at a young age to continue her musical career.
"Traditionally, Comorian woman are not so free," says Nawal. "Even men are not free. I see some men who go to the mosque just to please their family. And some men might be forced to marry women they don't want. But it is more women who don't have rights. In my mother's generation, girls were kept in a closet, like in prison. They could never feel the sun, they could only see it through little windows. Nobody outside the family was allowed to see them, from birth until they have their period at which point they were married off. My maternal grandfather, who was mixed French and Comorian, just said no to this practice and sent my mom to school. And when she got older, my mom was one of the first women to work at a paid job, like a man. Maybe that is why I am the first woman to play an instrument in public."
It was not easy in France. "When my mother arrived there she did not want to lose her roots," continues Nawal. "I had to learn to disobey." Nawal didn't have the right to go out except to school. She would jump out the window in order to discover where she lived. When she had her first concert at age seventeen, she began to have conflicts at home. "That is when I left my family and became free," says Nawal.
Nawal's music draws on two sides of Comorian sonic traditions. The African side is a heavier and "proud sound," as Nawal calls it. The other side brings to mind Arabic, Turkish, sometimes Persian, and even Indonesian sounds. The powerful rhythms of Africa are mixed with the open and airy sound of the Middle East. Other songs draw on Comorian dance rhythms once used in marriages, house blessings, and other ceremonies.
In addition to singing, Nawal plays the gambusi which has a sound somewhere between the banjo and the Arabic oud. "I thought it was Comorian, but when I got to France I read that it came from Yemen, where they prohibited it because it is thought to bring spirits. I guess the people from Yemen who wanted to continue playing brought it to Comoros," jokes Nawal. The wind brought the first Arabic and Persian people to the Comoros by boat. They had to wait for the wind to change directions to bring them back home. Because of this cycle, they would stay for half of the year and move back north for the other half of the year. Their musical influence is heard in Africanized form in Nawal�s music. Though the Comoros have a frame drum called the daf, Nawal prefers the sound of a larger, original version of the same instrument from Iran, which she plays.
Nawal comes from a Sufi sect called Shadhiliya. On songs such as "Kweli II," she has adapted the sect's dhikr chanting technique, an a capella, repetitive chanting that relies on special breathing patterns which start slow and increase in speed, and can last for many hours. The chanting is sung mostly in the zaouiya (monastery), but also in mosques and is used to reach a trance state. Nawal combines this with a similar style from the Qadiriya brotherhood and also accompanies the chanting with instruments. Though Nawal has created modern music, on stage, Nawal's performances often take on the feeling of a ritual. She takes the roots of a lot of different things that were not normally combined and puts them together in a modern context.
Nawal first heard the trance music of the Zimbabwean mbira ("thumb piano") on a visit to America. She was surprised to see Americans playing music that she immediately identified as a musical cousin to her own music. The sound was so compatible that Nawal recruited American mbira-player Melissa Cara Rigoli who performs on the new album and in the touring trio, which also includes Nawal's brother Idriss Mlanao on contrabass. Melissa has found that Nawal's personal take on spirituality is broad enough to have meaning for those outside of Comorian culture and Sufi spirituality.
"Nawal is not just singing traditional Comorian music," says Melissa, who joined the group in 2004 and plays percussion, as well as mbira. "She sings some in French and a little in English. She is from Comoros, but her message is not just for Comorians. She sings about things that relate to the world, with a real universal message."
"We all have a new culture coming," Nawal theorizes. "A culture coming from different countries that have the same future. We all see the bad side: Fast food everywhere in the world, and that sort of thing. But the positive side is that everywhere in the world there are people who are thinking in the same direction; trying to see a holism. The music I play is like a prayer. I do not get on stage simply to make a show. I am there to share my hopes and to make a connection. It is what I wish for the universe and for each of us."
About the Comoros Islands
The Comoros are called the Islands of the Moon and the Perfume Islands. The islands are full of scents and are also known for their vanilla and cloves. A large percentage of the world's yalang-yalang--a strongly-scented flower used in all high-end perfumes--comes from the Comoros. Like India, the Comoros have the strong scents of spices, curries, and coconut milk.
The four Comoros Islands are between Madagascar and Africa. African Bantu people and people from Zanzibar and South Africa mixed with Indonesians living there. People from Persia, and from Yemen and Oman in North Africa brought Islam to the Comoros. Today African animist beliefs are subtly mixed with the more predominant Islamic practices. French and Moroccan influence can also be seen there. The Comorian language is in the same family as Kiswahili (Swahili).
There are four islands in all. Three make up the independent nation of The Union of the Comoros: Ngazidja (French: Grande Comore), Mwali (French: Mohéli), Ndzuwani (French: Anjouan). Many different empires sought to control the Comoros Islands: the Persian, Arabic, French, Portuguese, and even some English and Americans. The French and Arabic fought for control of the islands. An American named Mr. Wilson joined with the Arabic people and spent many years fighting against France for the independence of the island Anjouan. In the end, the French won the battle and they ruled the four islands until 1975, when three of the islands became independent. The fourth island, Mayotte (Comorian: Mahoré), remains under French rule. The islands are small. The largest--Grand Comore--only takes three hours to drive around.