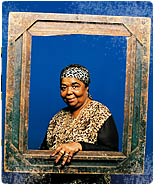 The Unexpected Journey of Cesaria Evora:
Madonna, Mercedes, and Morna

North American June/July 2007 Tour
It has been almost two decades since the outside world was introduced to the original barefoot diva, Cesaria Evora. While in recent days we see many following in the footsteps of Cape Verde's best-known singer, few Cesaria fans are drawn to the little-known island nation per se. They are drawn to Cesaria herself. Her personal authenticity. Her voice. Her bare soul. Never kowtowing to the whims of a trend, audiences of Cesaria's June and July North American tour will find her once again just being herself. She will perform her signature mournful-yet-hopeful ballads including music from her most recent recording Rogamar (Sony BMG/RCA Victor).

It's been an unexpected road for Cesaria. In the early days, she rode a wave of tastemaker popularity finding audiences that included David Byrne, Bonnie Raitt, and Ed Bradley. Cesaria was set to perform at Madonna's 1997 birthday party at Versace's private estate. But the fashion designer's murder put an end to that. Madonna tried again with her 2000 wedding at a castle in Scotland, but when Cesaria found out Madonna only wanted the Cape Verdean singer accompanied by piano, not her full band, the elder singer cancelled. Regardless, over the years a wide American and Canadian fan base grew from consistent touring, each year in successively larger venues, several CD releases, and her star-studded audiences.

Like many people, Cesaria envisioned that if she would become successful, she would buy herself a Mercedes. After first proudly being able to buy her own house (she still lives in Cape Verde), she finally was able to secure the car of her choice. She soon found out how difficult it is to get Mercedes parts in Cape Verde, and as a result, many a band member has departed from a worldwide tour trying to figure out how to pack a muffler or other car part into their bags. To top things off, Cape Verde's rough roads are not the best terrain for a Mercedes. On stage, fans still find the singer in modest form, yet with a singular voice that calls to mind a previous era.

"This flower that wilts, this child that cries, this cloud that passes, it's nostalgia, it's sadness… The world changes, but my story continues." Cesaria sings these words by Teofilo Chantre and Vitorino Chantre on their song "Um Pincelada" featured on Rogamar.

Cesaria shows extraordinary good taste in choosing songwriters. In the port of Mindelo on the island of São Vicente, they might say she has a kind of inbuilt radar that allows her to detect hazards and steer clear of treacherous reefs, enabling her to rely on the best. Manuel de Novas, ex-harbor pilot, and Teofilo Chantre, the musician from Paris, are inextricably bound to the emotional lace of their native land's saudade, Portuguese blues. Cesaria also turns to younger talents. "They're born and grow. I'm the only one getting old," she jokingly remarks. Two of these new songwriters are on Rogamar, gifted lads from Mindelo named Constantino Cardoso and Jon Luz. Morna and coladera are not about to be sucked down into the globalization of sound.

Rogamar comes from from rogar, to pray, and mar, the sea, the ever-present sea. "The people of the islands/Are a seagoing people/But only for long voyages," writes Teofilo Chantre over a Saint John's Day beat. The journey through the "channel" between São Vicente Island and Sant'Anton opposite is quite an ordeal. When the waves rise, "Rogà, rogà Virgem Maria/Pegà, pegà Santa Barba;" on the little boat, they pray to the Virgin Mary and ask Santa Barba to hold on. Cesaria loves to gaze at the sea. She's very clear: she cannot live without it. But as for going in: never! She's afraid of it, she says, just as she says she has loved, suffered and been exploited by the colonial system and jealous producers, yet managed to laugh and joke about it. "And God never sleeps, he writes in a straight line, even injustices," Cesaria adds, with a meaningful look.

Cesaria Evora is a puzzle with several unknowns. Although the future once predicted for her an ephemeral season in the sun, she has sold nearly five million albums worldwide. Since 1988, the year of La Diva aux Pieds Nus (The Barefoot Diva) and her appearance in the Western market, "I've fulfilled all my obligations," she says. Thoroughly, one might add, and remaining very much the mistress of her own fate. Rogamar is fresh. Rogamar is oceanic. Cesaria is complete.