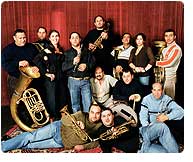 When a Pseudo-Kazakh Calls, Fanfare Ciocarlia Answers: Romania's Brass Band is Born to Be Wild
Last year, Hollywood came knocking in the remote eastern Romanian village of Zece Prajini, a hop, skip, and a jump from the former Soviet republic of Moldova. With its muddy streets, horse-drawn carts, and modest houses, the place, even according to villagers, is "the end of the earth." What attracted movie moguls to Zece Prajini? Borat needed a cover of the biker anthem "Born to be Wild," and they had a very particular group in mind.
That group was Fanfare Ciocãrlia, the speed-loving masters of Romany brass music's curlicue melodies and exhilarating rhythms, who were sought out for the soundtrack of last year's quirky hit, "Borat: Cultural Learnings of America for Make Benefit Glorious Nation of Kazakhstan." And while it may seem odd to have rural Romanian gypsies playing Steppenwolf behind the antics of a pseudo-Kazakh, it's just par for the course for the eleven-member, multi-generational Fanfare Ciocãrlia, whose history and inspirations span the globe. This history comes to life on Queens and Kings (Asphalt Tango Records), an album that draws together the reigning royalty of Europe's Roma musicians and pays touching tribute to Ioan Ivancea, Ciocarlia's late bandleader.
The Roma ancestors of Fanfare Ciocãrlia's musicians were enslaved in Romania by the likes of notorious Prince Vlad Dracul, staunch opponent of the Ottomans. In their new land, they continued to create their own intricate version of the brass music once played by the janissaries. Granted their freedom in the mid-19th century, the liberated Roma spread across Europe and beyond, or settled in small villages like Zece Prajini. They kept their distinct musical traditions, inspiring the musicians, poets and artists around them while remaining mistrusted, mistreated, and misunderstood.
Despite DJs, CDs, and electronic keyboards, live traditional music still occupies an important place in everyday life in communities like Zece Prajini. A wedding or other celebration without musicians would be simply unthinkable. Fanfare Ciocãrlia's thumping bass, driving percussion and spinning horn solos plunge listeners straight into a wild world of Romanian Gypsy parties, which can last for 30 hours at a stretch. Their repertoire is a musical fireworks display of traditional dances from Romania and rhythms from Turkey, Bulgaria, and Macedonia, yet with ever changing innovation inspired by everything from Bollywood to Eurovision.
The Romany roads that diverged centuries ago rejoin on Queens and Kings, which turns the long-standing connection between Europe's diverse Roma into rocking, wrenching songs of love and heartache. The connections feel stronger than the cultural differences. On Queens and Kings, Macedonia sounds very close to France, Hungary to North Africa. It's also the perfect introduction to many of the musicians who rule the hearts of hardcore Romany music fans, the perfect gateway to the grooves listeners have come to love thanks to hipster Balkan Beats bands and DJs.
Bucharest's Dan Armeanca is the elusive, effusive king of manele Gypsy pop who, despite his popularity in post-socialist Romania, has yet to make waves further west. Saban Bajramovic, born in southern Serbia, was one of Yugoslavia's best-loved Gypsy singers whose soulful, nimble voice evokes the essence of Roma life. Bosnian singer Ljiljana Butler, née Petrovic, was also a big name in Yugoslavia's vibrant Gypsy scene until the civil war forced her to flee to Germany, where she was rediscovered and returned to her rightful place in the spotlight. Bulgaria's Jony Iliev began his career at the tender age of 10 in the Gypsy quarter of his hometown and later rose to local and international fame thanks to his rock-inflected approach to Romany songs. Dragan Ristic, Djordje Belkic and Dejan Belkic of Belgrade's Kal broke onto the international scene recently but decisively, bringing the music of the Serbian capital's legendary kafana (coffeehouse songs) to the world. Kaloome, led by guitarist and singer Antoine "Tato" Garcia, explores the Gypsy ties that bind North Africa to Spain, France and the rest of the Mediterranean. Mitsou once fronted one of Hungary's best loved Gypsy bands, Ando Drom, and has now moved further into cross-cultural fusion, adding her extraordinary vocals to Gypsy electronica. Known as the "Queen of the Gypsies," Nobel Peace Prize nominee Esma Redzepova hails from Macedonia, and has written and recorded thousands of songs, backed by her late husband Stevo Teodosievski and some of four dozen orphans she adopted and educated over her long career. Last but not least, the young Florentina Sandu comes from the legendary lautari (Gypsy musician) village of Clejani, Romania and from a long line of greats, such as her grandfather, the virtuosic violinist and founder of Taraf de Haidouks, Nicolae Neacsu.

This musical summit not only reunited the many paths of the Roma; it also brought Fanfare Ciocãrlia full circle on their own international journey. It wasn't until after the group's music had thrilled Berlin, Tokyo, Paris, Moscow, and even Austin that they got their fair share of praise and recognition in Bucharest, in the form of a gala concert last December.
Beloved band patriarch and clarinetist Ioan Ivancea described to filmmaker Jasmine Dellal the surprise he felt when traveling abroad for the first time after the fall of Communism. Fanfare Ciocãrlia's musicians had expected the same suspicion and derision they encountered as Roma in Romania, only to be embraced by adoring audiences moved by their music. This adoration finally rubbed off back home. It came too late for Ivancea, however, who had passed away mere months before the gala. His voice was mixed posthumously into one of Queens and Kings' final tracks, "Farewell March," and his portrait graces its cover.
American audiences will get a chance to see this story for themselves starting in June with the theater release of the documentary, "When the Road Bends: Tales of a Gypsy Caravan" (www.whentheroadbends.com). Directed by Dellal, this film chronicles the wild ride of Fanfare Ciocãrlia and several other well-loved Romany ensembles across the U.S. as part of the Gypsy Caravan tour, contrasting their experiences abroad with their lives back home.
Fanfare Ciocãrlia's journey has taken them from Zece Prajini, around the world, to the silver screen, and back again. Last year, band leader Ioan began feeling exhausted while on tour. Ivancea was diagnosed with cancer, but he refused to be hospitalized, still turning up for rehearsals. He was so committed to the music that he died clutching his clarinet. Queens and Kings' is the response of a band who enlisted the musical royalty across Europe to pay tribute to the brass band's patriarch. More than an antidote to their devastation, the album is evidence of Fanfare Ciocarlia's standing as one of the world's top reigning brass bands.