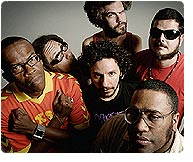 The Hip Hop Justice and Dubbed Out Disposition of Rio: Verge Records Debuts with The Inspiring New Sounds of Rio de Janeiro
A new sound has emerged from the beaches and green heights of Brazil's most adored and economically divided city, Rio de Janeiro. With The Inspiring New Sounds of Rio de Janeiro, the first release from a new, socially conscious label, Verge Records shows that Brazil's latest sounds continue to have an amazing mutability. The thirteen tracks combine the pulse of hip hop, funk, and jazz with a hard-core commitment to social justice but with a distinctly sunny disposition. At the same time, the music never loses track of its roots in the favela, the violence-rocked slums surrounding Rio.
Take Samuca, lyricist and MC for Movimento na Rua. He spent a decade in jail as a young man, but not in vain. A prison conversion led him to turn his life around and dedicate it to helping youth from the favela. He used the thousands of poems he wrote while behind bars to forge a hard-hitting but inspiring message aimed at educating the outside world about the reality in the slums, as well as reaching the child soldiers in the local drug wars the best way he knew how: through music.
Samuca and the other members of Movimento have their work cut out for them. Some of the kids Samuca and his fellow artists work with as part of the Pronto BR program in the Vila Aliança favela have met untimely, violent deaths at the hands of drug traffickers. One 18-year-old from the program who wanted to leave the drug trade was recently attacked and fatally burned.
Yet the tough life on Rio's streets has sparked a passion for social justice with none of the "violence for violence's sake" patter of gangsta rap. Far from glorifying the war on the streets, artists like Samuca hope favela life will transform society as a whole, portraying "the favela as an important part of every person's body, like an antibody that is produced in the human body to fight impurities, sickness, and other negative factors" in songs like "Periferia de Jah." The song discusses how the poor need God more, and that's why the divine spirit is far stronger in the slums, on the periphery. The favela can be society's inspiration to change. Verge founder Emmanuel Zunz discovered Movimento and their unique brand of "favela hip-hop" while working with the Canadian organization, Schools Without Borders.
Though many of the songs on the compilation are hard-hitting, the sonic textures are diverse yet seamless. The tracks segue from hip hop to samba to dub. One of the best known and most traditional performers on the disc is Gabriel Moura, who is finally gaining the broader hearing his long career deserves. Moura's songs have been recorded by some of Brazil's best loved artists. In the 1990s, Gabriel developed a unique musical language that became world famous through the samba-funk-jazz beat of Farofa Carioca, the band he started with his then musical partner, Seu Jorge. Moura had helped Jorge when the future film star and musician had fallen on rough times, taking Jorge in and even giving him his first guitar lesson.
The uplifting side of the album is expressed by artists like A Filial, BNegão e Os Seletores de Frequençia, and Digital Dubs, all of which bring Rio's special sensibility to everything from neo-samba to Jamaican dub. "This music coming out of Rio is a real movement, the new age of Brazilian music. Bossa nova and samba is combined with hip hop. Interestingly, hip hop from other cities like São Paulo is more like gansta rap, while in Rio, it's more laid back, maybe because it's such a beautiful city, more mellowed out," explains Zunz.
A Filial sounds something like Antonio Carlos Jobim and De La Soul hanging out on a summer weekend. Combining bossa nova and samba with hip-hop and funk, this youthful group's eclectic sound has been dubbed Nova MPB, new Brazilian Popular Music. A Filial's main MC and founder, Edu Lopes, has long been a fixture on the Rio hip-hop scene. His rhymes focus on simple pleasures and the subtle issues of human life and personal experience, all with a rye, infectious sense of humor.
Inspiring Sounds also delivers three tracks from "apocalyptical Zen prophet and politicized shaman" BNegão, who strikes an eccentric balance between political philosopher and street preacher. He rose to fame in the late 1990s as Marcelo D2's partner in Planet Hemp, a popular, pro-legalization group that landed BNegão in trouble with the police for the band's hemp-positive message. Now with Os Seletores de Frequençia, BNegão fuses in-your-face rap with Brazilian and Caribbean rhythms, throwing in a healthy dose of funk, jazz and hardcore for good measure. "V.V." begins with a traditional guitar intro from rural Northeastern Brazil and then quickly morphs into a samba-funk jam that fuels the fire of B's lyrics. As BNegão describes it, "The song speaks to the boomerang effect, the law of cause and effect, what goes around comes around."
Finally, the compilation highlights the first reggae sound system from Rio, Digital Dubs. Though the music is quintessentially Jamaican, the Rio warmth is unmistakable, especially on tracks like "Se Liga Nelas," which features the "king of baile funk" Mister Catra on vocals and juxtaposes a heavy dancehall rhythm against a softer, poetic melody.
Bringing together diverse artists like those you hear on Inspiring Sounds with socially conscious perspectives and cutting-edge sounds is the core of Verge's mission. Label founder Emmanuel Zunz, a classically trained musician with a graduate degree in international economics, created Verge with a "double bottom line," making social responsibility an integral part of the label's business. To fulfill its social mission, Verge has partnered with Schools Without Borders (SWB), the Canadian-based nonprofit that led Zunz to Movimento na Rua. Verge plans to use up to ten percent of profits to fund SWB music education programs in distressed communities. It also plans to work with SWB to build local recording studios, which will be used to help youth gain audio production skills and give voice to young musicians. Verge plans to release compilations of the best tracks recorded in these studios, in addition to releasing the music of already established artists.
Zunz's time in Brazil inspired him to found Verge. And now, American listeners can share in that same inspiration. Who knew that social consciousness could come with such a slammin' soundtrack?