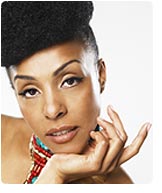 Zap Mama shines with rare and genuine brilliance on Heads Up International Debut: Supermoon set for release on August 7, 2007
[photo by Jurgen Rogiers, copyright 2007]

There's an alluring place where the mystique of the African continent meets the complexity of the Western world. It's a place where rhythm and beauty, myth and melody, history and harmony converge. It's a place where anything is possible.

For more than 15 years, the musical entity known as Zap Mama has stood at that crossroads. Born in the Congo to an African mother and Belgian father, harbored by pygmies in the forest in the midst of revolution, and raised in the predominantly French culture of Belgium, vocalist and founder Marie Daulne is not only a living map of the world, but a purveyor of its rich stories and an ambassador to all of its diverse cultures. A brilliant songwriter and performer, she distills and reflects creative energy from an infinite array of sources and beams it back to the world with a brilliance that is unsurpassed.

Zap Mama's Afro-European energy and light shine brighter on her debut on Heads Up International with the August 7, 2007, worldwide release of Supermoon. An engaging blend of world, soul, pop, jazz and other subtle shades too numerous to mention, the album includes guest musicians from around the globe: drummer Tony Allen; bassists Meshell Ndegeocello and Will Lee; guitarists David Gilmore and Michael Franti; pianists Leon Pendarvis, Daniel Freiberg and Robbie Kondor; percussionist Bashiri Johnson and many more.

Produced by Daulne as well as Christopher McHale, Luc Weytjens, and Anthony Tidd, and mixed by Axel Niehaus and Dave O'Donnell, the album takes its title from a culture obsessed with superstars and idols. "It seems rather foolish for people to look up to figures who are not very good examples of how to live your life," says Daulne. "They identify themselves through a media image, a certain kind of look, a certain kind of artificial personality. I say let's be ourselves, and let's create a word for what it means to be ourselves. A 'supermoon' is a unique person. You can be a supermoon if you follow your own desires and pursue the things that you were born to do. To be a supermoon is to be true to yourself and others."

Indeed, Supermoon is perhaps Zap Mama's most emotionally honest and intimate recording in a discography that spans fifteen years and six albums. "With Supermoon, I reveal the way I chose to live when I started my career. It's very intimate, beginning with my choice of the picture on the cover of the album. You're seeing me very close up. I hope that's a kind of intimacy that people will understand. I'm opening a door to who I am, and revealing myself for all to see."

The title track sets the tone for the rest of the record by extolling the virtues of genuineness over artifice. As Daulne explains: "I'm not a superstar and I don't want to be, because all the superstars look like each other. I prefer to be me. Unique. Like a moon – a 'Supermoon.' Friends, lovers people around us – they're our 'sun' and make us shine. And it's important in life to find a person or people who do just that. If you idolize others too much – whether it be musicians, movie stars or media superstars – you lose sight of yourself. But if you listen to the voice inside yourself, and surround yourself with similarly wonderful people, you'll keep your center."

The polyrhythmic "Go Boy" is a bittersweet immigrant tale featuring the subtle but stirring piano work of Leon Pendarvis. "The song describes the dream of a boy who tries to leave his native land for the Western World," says Daulne, "but in the process he forgets the beauty of his own land, and the perils that come with leaving one's own land."

"Affection" is inspired by a close friend of Daulne who recently passed away. "Affection is everywhere," says Daulne. "It's in a smile, a hug, a touch, a phone call. We're all looking for affection. We're all looking for recognition." The track was co-produced by Anthony Tidd, who also produced "Bandy Bandy" on the previous Zap Mama outing, Ancestry in Progress.

"Toma Taboo," a track that features guest vocals by the well known Belgian singer Arno, is based on an African song, and speaks to the importance of rituals in helping people make sense of the transitions from one phase of life to another. "We start out as children and we become teenagers, and then we go from teenagers to adults," says Daulne. "Those transitions can be a struggle, and we often feel lost. In the Western world, there's no ritual or tradition to help us pass through these big moments. Our ancestors had them, and this song is my way of bringing some of that back."

The high-spirited call-and-response of "Kwenda," featuring saxophonist Lenny Pickett, comes from a popular African children's game. With the help of her mother, Daulne introduced the game and the song to her classmates in her Belgian elementary school as a child. "They didn't understand the words," she recalls of her classmates, "but we taught it to them phonetically, and in the end, it brought them the same joy that the song brings to many African children."

The rhythmic and upbeat "Gati" is based on a chant Daulne picked up from a man named Gati Bongo, who lived in the little-known African village of Gabon – a man whom she met when she returned to the Congo as a young adult. "I made a promise that in every record I made, I would always include a song or a reference to the pygmies," she says. "They saved my family and many others during the Congolese rebellion, and they deserve recognition for that."

"Where Are You," built on the lush counterpoint of pianist Robbie Kondor and bassist Anthony Guarnier, is not so much a song about love, but more about the search for it. Starting softly but evolving into something more bold and impassioned, asking over and over again, "Where are you?" The song is "for the single people who are looking for a partner," says Daulne. "We're all looking for a lover, but when we try to be committed to someone, it's hard."Whether she's addressing issues of concern to our culture at large or intimate matters of the heart that affect us on a profoundly personal level, Zap Mama sings with a genuine voice that values sincerity over dazzle. In the end, her music is as illuminating as it is entertaining.

Stand in the light of Supermoon and catch the positive groove.