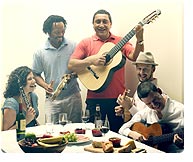 Brazil's 1930s Come to Life in New York:
The Choro Ensemble Recreates the Energy of Tropical Dixieland on Nosso Tempo
There is a time machine located in a New York bar powered by a clarinet, a couple of guitars, a small hand drum, and the idiosyncratic sound of a playful, four-string offspring of the guitar called the cavaquinho (pronounced: kah-vah-KEEN-yo). When played in this configuration with just the right soul, listeners are transported to 1930s Brazil, when for the first time ever—thanks to the emergence of broadcast radio—a single genre was being listened to by the notoriously diverse nation. That genre was choro (pronounced: SHO-ro), a sweet style of music that originated in Rio de Janeiro and which has been compared to a tropical Dixieland.

Though practically every town in Brazil has its choro ensembles, up until this century, choro was virtually unheard of in the United States. But that changed when an unexpected chance meeting led to the creation of the Choro Ensemble, whose upcoming album, Nosso Tempo (Our Time), will be released August 14, 2007 on Anzic Records. In the hands of the Choro Ensemble, the acoustic style takes on a hipness somewhere between chamber music, jazz, and samba.

Sao Paolo-born guitarist Pedro Ramos started a choro group on a whim while in school. By the time he followed his wife to New York, he had become obsessed with the cavaquinho and choro. "I knew nobody played choro here," remembers Ramos, a founder of the Choro Ensemble. "But it was clear to me that's what I would do as soon as I got here." Though he didn't know anybody in New York, he gradually gathered enough musicians to have a weekly gig in Astoria, Queens, playing only for tips. He met Israeli-born jazz musician Anat Cohen when she first arrived in New York, and found out she had stumbled onto a few choros, which she had played on clarinet. One day Ramos invited Cohen to join them. She was already an established jazz sax player, but the challenge of learning this new style and incorporating improvisation captivated her.

"The music was so fascinating to me," says Cohen. "It demanded a real technical study. The melodies are not as simple as the American songbook, or other common songs that you just hum. You have to really study them and understand the melodic structure before you improvise." At the same time, Cohen—who had been playing tenor and soprano saxophone—was rekindling her love for her childhood instrument, the clarinet. The challenge of choro—whose mellow moods belie the hurried runs required to play it—drove her to get her clarinet chops back and as she dedicated herself to fluency and mastery of the style, she began incorporating her own voice, embellishments, and improvisation into it.

Cohen took a two-month trip to Rio de Janeiro where she met young people dedicated to playing this music, developing their own language in this music, "more like a jazz approach," she explains. She fell in love with the music, the culture, and the people and she was hooked just like Ramos. Cohen is now fluent in Portuguese (to the point that she was negotiating mechanical rights for songs on the new album) and the dynamism between her melodic lead and the other band members launched an entirely new scene in New York.

The Choro Ensemble—rounded out by Gustavo Dantas on guitar, Carlos Almeida on seven-string guitar, and Zé Mauricio on pandeiro (a Brazilian tambourine) and other percussion—played a weekly gig at a Manhattan French bistro for five years straight. So energetic and popular was the regular engagement that Time Out New York named it one of the five Best Weekly Gigs in New York. Soon the group found themselves playing with Winton Marsalis at the Apollo Theater, with the New York Pops and Skitch Henderson at Carnegie Hall, and on their own at New York's JVC Jazz Festival.

The twelve tunes on Nosso Tempo—most of which came about during their weekly gigs—are a balance of pieces by iconic choro composers, innovative writers in the style, and band members themselves. Taken together they demonstrate how the band faithfully respects the choro tradition while being true to their own musical voice and milieu.

The album is anchored with pieces by three of the best known choro composers. "Brazileirinho" (or Little Brazilian) was written by Waldir Azevedo, and it was on the first hit phonograph recording in Brazil. "This guy had the magic of composing really popular, catchy choros," explains Ramos. "This tune was on a record that sold 200,000 copies, which was huge number at the time."

Choro master Pixinguinha and his group The Magnificent Eight were the first to tour outside of Brazil and, as Blacks and mestizos, pushed the limits of the color line. They went to Paris in 1919 and toured, meeting and playing with the likes of Louis Armstrong. The Choro Ensemble performs Pixinguinha's "Ingênuo," a tune the composer hid for a few years, because it broke from the typical three-part form (it only included two parts). Now many people consider it his masterpiece.

The group takes on four songs by Jacob do Bandolim, another master choro composer. Whereas Pixinguinha's "Ingênuo" followed a "square" rhythm, Bandolim's "Noites Cariocas" (Rio Nights) has a samba feel. Bandolim also introduced an unheard of classical major 7th harmony into this piece. On "Orgulhoso" (Proud), another Bandolim melody, Ramos plays the tenor guitar, an instrument that falls somewhere between the ukulele and the guitar. The tenor guitar was big in the 1950s in choro but has all but been put aside these days.

Clarinetist Anat Cohen's warm connection with the music and culture, and more specifically her fellow band members, emerges on her "Cadê a Chave." While on tour, the band stayed at Pedro Ramos's house. "We found out that Pedro's family is very funny," laughs Cohen. "Every time we had to leave the house, in the last three minutes comes questions like, 'Where are the keys?!' 'Did you see my pants?!' It's total chaos. So I wrote this for his family." Each part of the composition represents a family member rushing around in the chaotic moments of getting out the door. In a musician's play on words, the melody itself modulates into different keys, and occasionally an extra bar is thrown into the melody's 16-bar sections, further invoking the song's hectic origins. "Whoever knows the family knows exactly what it means," explains Cohen. "Even the family members laugh when they hear the song."

"Bolo de Fubá" was written by Ramos specifically for the new record. "We decided my last couple of choros were complicated, so I decided to write a choro that was easy to memorize," says Ramos. "The title means 'corn cake,' which is the easiest cake recipe to make in Brazil." Cohen interrupts Ramos to say, "What is a piece of cake for Pedro is not so easy for other people!"

Band guitarist Carlos Almeida composed "Descendo a Ladeira" (Down the Road) more than 30 years ago. He wrote the song for a contest of frevos in Northeastern Brazil. Frevo is a rhythm from Pernambuco. But Almeida never entered the song because at the time it was very difficult and expensive to record. "I am sure it would have won something," says Ramos. Meanwhile, the gentle ballad-like "Pensando em Ti" (Thinking of You) by the band's other guitarist Gustavo Dantas may have won a prize; that is, a prize in the heart of his wife, for whom he wrote the piece.

The band's compositions show them adding to the repertory, respecting both choro's past and their own life experiences and thus building a musical bridge between Brazil and New York. The album title, Nosso Tempo (Our Time), refers to the band's time together, the influences of today's New York City music scene, and the tradition of Brazilian music that continues to the present.

While it's too early to tell what the Choro Ensemble's position will be in history, there is no doubt that they have successfully teleported the sound and energy of a significant Brazilian sound 4700 miles north and several decades forward, and are very much a part of a rebirth in which musicians explore and create their own personal voice within a tradition.