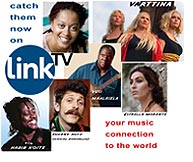 View Additional Info
Link TV Delivers World Music Nationwide To More Than 30 Million Homes
Nobody knows the future of the music industry. But while the Chicken Littles were declaring the end of the music biz, new delivery patterns surfaced, using all available technologies. New tools are connecting markets not served by old models, and audiences overlooked by commercial media are finding music through alternative outlets. The often-described global village is finally emerging in the realm of music delivery.
Witness Link TV, a nationwide, non-commercial television network dedicated to presenting documentaries from around the world, global and national news, award-winning foreign films, world music from 97 countries and innovative participatory programs promoting citizen action. Launched in 1999, Link TV is now available in one out of four U.S. homes. While the channel won awards and national attention for its unique approach to reporting the news with programs like the Peabody Award-winning MOSAIC, Link's music programmers also blazed the trail, making it the only national network to regularly air world music videos and documentaries. Link TV currently boasts the world's largest library of carefully curated international music videos.
Link—which broadcasts up to four hours of world music videos daily—is available free of charge as a basic service in every home with satellite TV. That's over 30 million US homes on DIRECTV (375) and The DISH Network (9410). Select programs are also shown on cable systems in New York, San Francisco and Los Angeles. Link's programs are streamed worldwide on the internet at www.LinkTV.org.
Industry experts predict that by the end of 2007 satellite TV will be in 31 million homes. Every week over 5 million people watch Link regularly. Twenty percent of Link viewer supporters say world music is their favorite programming. World-class musicians such as Dave Matthews and Willie Nelson tune in regularly.
"World music is part of Link's mission to provide Americans with a global perspective on news and culture," explains Steven Lawrence, Link TV's director of music and cultural programming. "Through Link, viewers have access to the voices and visions of filmmakers, reporters, and artists who otherwise would not be known here. Why? Because other networks think Americans aren't interested in what's going on outside our borders. But they're wrong! Particularly since 9/11, there has been growing interest in the rest of the world, so Link is serving the increasing number of Americans who embrace the idea of global citizenry and want to be exposed to the diverse voices of other cultures."
Twenty percent of Link's programming is world music, including 750 exceptional videos from 97 countries as well as a large selection of outstanding performance documentaries (see attached music video and documentary listings). The music videos are presented in hosted half-hour and one-hour blocks that run several days a week. And Link's website streams a broad selection of the videos, many of the music blocks and a growing selection of original artist profiles and performances. Visit www.linktv.org/worldmusic for details.
The definition of world music is inclusive, ranging from traditional genres to fusions and global Hip Hop, and in keeping with the mission of presenting unheard voices, Link also features American roots and ethnic music rarely seen on other nationwide TV channels, ranging from bluegrass to Cajun and Tejano.
Thousands of viewers have emailed to express their appreciation for Link's music programming. Most often, they thank Link for introducing them to extraordinary new artists and for providing a refreshing alternative to what they see on MTV. The recurring phrase is, "What a breath of fresh air!" (See attached viewer stories.)
Link has played a major role in breaking global artists into the U.S. The channel was the first to broadcast Sevara Nazarkhan (Uzbekistan), Susheela Raman (U.K./India), and Ojos de Brujo (Spain); and have made Romanian band Nightlosers, which doesn't even have a U.S. label, into a cult favorite and top seller in the Link TV Music Store, managed by Calabash Music.(www.calabashmusic.com) There is a direct measure of viewer response to videos at www.linktvstore.org, where viewers buy downloads of what they see on Link TV. The channel airs weekly video premieres, which are also streamed on Link's website. The site features dozens of outstanding videos along with artist interviews and profiles.
The steady growth of Link's viewer base and the enthusiastic response to its music programming provethere is a vibrant and active audience in the US that is yearning for new sights and sounds and a greater connection to the rest of the planet.
Additional Info

Link TV Delivers World Music Nationwide To More Than 30 ...


Growing the Audience for World Music: Link TV Finds New Fans Among L....

Top 15 World Music Videos

Music Documentaries

Link TV Series

Link TV Documentaries
Link TV Bios
Top of Press Release