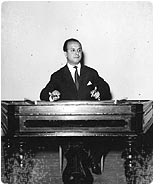 Romania's Once-Jailed Cimbalom Star Emerges from the Vaults: The Lightning Fast Mallets of Toni Iordache
Back in the early 1970s, when a few bucks in hand meant years behind bars, Romania's hottest cimbalom player, Toni Iordache, was picked up by the police with foreign currency in his pocket. He had acquired it during one of his numerous international tours and, rumor has it, he was planning to buy his wife a fur coat with some of the money he'd earned abroad.
When the affair came to trial, the influential band leader Florian Economu came to this musician's defense with an argument that shows just how important Iordache was among the lautari (Roma musicians) at the time. Economu asked the court, "We have three giants in Romania: Nicolae Ceausescu"—Romania's long-ruling party secretary, — "Ilie Nastase" —the world's top ranking tennis player at the time, — "and Toni Iordache. Do you really want to convict him for a few dollars?" Despite this high-flying praise, Iordache spent a year in prison. But his career continued unscathed, thanks in part to his fellow inmates' offers to do some of Iordache's share of hard prison labor.
Jail time notwithstanding, his lightning-fast mallets and wide-spread popularity kept Iordache at the center of the burgeoning lautari scene in Romania for decades, though the cimbalom genius has been sadly neglected in the West. This is about to change with the fourth volume in the Sounds from a Bygone Age series on Asphalt Tango Records dedicated to Iordache's artistry. The series mines the vaults of the Romanian state record company Electrecord to rediscover lost gems from Bucharest's lively mid-century gypsy scene.
Many previously featured artists from the series had direct ties to Iordache. The Billy Holiday of Bucharest, Romica Puceanu (Sounds from a Bygone Age, Volume 2), sings on several tracks (Vol. 2). Iordache was the musical heart of the unusual project put together by Ion Petra Stoican, the spy-catcher turned band leader (Sounds from a Bygone Age, Volume 1).
Iordache began playing a smaller, portable version of the traditional hammered dulcimer when he was only four, learning from his father. Their family soon moved to the neighborhood in Bucharest known as Herestrau, where their new neighbors included other Roma musicians like the Gore Brothers (Vol. 2) and falsetto singer Donu Dumitru Siminica (Vol. 3). By the time he was a teenager, Iordache was blowing listeners away at village weddings. Trumpeter and close friend Costel Vasilescu recalled his first encounter with Iordache: "I met Toni in a village on the outskirts of Bucharest in 1954. Toni was playing there and everyone was just standing around and getting scared because his playing was so insanely good."
This insanely talented young musician soon became a centerpiece of many Electrecord sessions, state folk ensembles, and gyspy tarafs (bands) in Bucharest, where most gigs were the exclusive territory of the lautari. Whether singing mournful ballads in cafes or performing the complicated festive music to keep the dancers going at two-day-long weddings, lautari came from a traditional clan of gypsy musicians, a sort of professional musical guild that played a unique role in Romanian culture. Even after Iordache had joined the state ensemble that regularly took him to Japan, Western Europe, and the U.S., he was known to land in Bucharest and take a taxi straight to a wedding he had promised to play.
Yet Iordache was much more than an in-demand wedding performer. His skill on the cimbalom involved not only spectacular speed, but also an unusual sensitivity difficult to achieve on the hammered dulcimer. What's more, his musical interests expanded the instrument beyond its traditional repertoire by incorporating hints of other musics, such as jazz. Gypsy pop star Dan Armeanca lauded Iordache's approach: "He respected tradition, but even back then he allowed jazz influences to sound through. He gave us young musicians courage due to his musical audacity." Before Iordache passed away in 1988 from the complications of diabetes, he passed his knowledge and inspiration on to his son and grandson, who still perform the cimbalom legend's arrangements in Bucharest restaurants today.