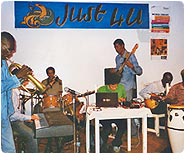 The Unshakably Joyful Black Militant of Switzerland Goes Back To Africa: The Bronx Meets Dakar on Steve Reid Ensemble's Domino Records Release Daxaar
Bronx-born drummer Steve Reid was a "militant" Black Panther back in the heyday. In the late '60s, he "reversed the slave trip" by taking a 17-day cargo ship back to Africa, where he lived for three years, and was thrown in jail upon returning for resisting the Vietnam War draft. He left America's racism for a more-tolerant Europe. On paper, he sounds like a pretty heavy cat, someone whose bad side you would not want to get on. But the truth is that Steve Reid is one of the most joyful and hopeful people on the planet, still optimistic that "bringing music to the people" can help solve the world's problems.
After the emergence of a Steve Reid cult following among both jazz and dance vinyl collectors, the risk-taking indie label Domino Records (Animal Collective, Arctic Monkeys, Franz Ferdinand, Robert Wyatt) releases Daxaar, a spontaneous jam with African players and longtime collaborator Kieran Hebden (also known as Four Tet) on electronics.
"To me, the roots of all music is the rhythm," says Reid. "A lot of drummers use drums that don't sound like drums. The industry used to push the drums into the back; they'd turn it down. Now they're turning it up again, which is cool. The rhythmic concept is back, so it's a new age. It brings the music back to the people because it means dancing and moving and shaking your ass, and changing your mind possibly. The music comes out of the streets and it belongs to the people."
And Reid should know. He grew up across the street from Thelonius Monk ("It was what we called real ghetto."). He tells of a musical renaissance, a time when there was live music accessible every night. Reid's discography reads like an A to Z in Black music from Motown to Sun Ra. He even played with Jimi Hendrix once and, when he was in Africa, with Fela Kuti.
Reid, Hebden, and keyboardist Boris Netsvetaev showed up in Africa last January without too much planning. "I write the pieces after I play them," says Reid with a pause and then his signature burst of laughter. Although he speaks earnestly about writing the pieces down and sending them to performance rights organizations after DJ Shadow lifted the drums and bass from Reid's "Kara Suite" without credit or payment.
Reid likes to tackle life spontaneously and he took that spirit into this project. "Jazz is just like the newspaper of the music world," laughs Reid. "A carnival of the shit that goes on at a particular moment. When you can improvise on the rhythms you can't go wrong. People need some regular happy music right now. This is what I wanted to bring from Africa, just regular groovy, happy music."
The album takes its name from an earlier spelling of Dakar, the Senegalese city where the record was made. Joining the session are Jimi Mbaye, who has played with Youssou N'Dour's Super Etoile since 1979, and who is known for making his Fender Stratocaster mimic the sounds of local Senegalese instruments. On electric bass is Dembel Diop, who is known for his work with Senegal's Omar Pene and Super Diamono. Rounding out the session are trumpeter Roger Ongolo and percussionist Khadim Badji.
The players gathered and wanted to know what Reid wanted them to play. He said, "Just play." After they played the first tune, everyone became comfortable with this concept. They played a couple of gigs, performing at night and recording during the day.

To set the African context the album opens with kora (West African harp) and vocals by Isa Kouyate on "Welcome." On the title track, "Daxaar," Reid was envisioning the Senegalese runners he saw sprinting on the beach, one of his first sights when arriving from the airport. Reid was going for something very accessible on "Jiggy Jiggy." He says, "We wanted to make some happy music. It's like love."
"Dabronxaar," which brings Da Bronx to Daxaar, gets some flavor from the era of Herbie Hancock's Headhunters and Weather Report. "That one reminded me of the train going up to the Bronx," comments Reid.
"Big G stands for God," says Reid about the song titled "Big G' Family." "We are all in Big G's family," says Reid with a big laugh, "although some of us are fighting each other. The curse of the planet is selfishness. That's the stuff we gotta work on. People gotta work on the love. It's the most powerful thing on the planet."
The album closes with "Don't Look Back," a rhythmical anthem that always swings back to the center. The track ties the album altogether in Reid's own brand of rhythm as philosophy.
"It's a rhythm thing! Stay in the rhythms!" says Reid, who comes from a line of preachers. "When you go out of the rhythms, you get into a whole lot of problems. This record is a balancing thing. Put it on once a day and it will keep your life balanced." But not letting his joy be overshadowed from his philosophy, Reid closes with "That's from the doctor!" and bursts out laughing one more time.