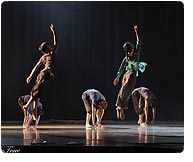 The Golden Age of Egyptian Music Returns: The Youthful Arabesque Music Ensemble Taps a Veteran to Pay Homage to Key Composers
The golden age of Egyptian music has returned on The Music of the Three Musketeers, (al-Fursan at-Talatha) by the Arabesque Music Ensemble. The three endearingly-labeled composers—Zakariyya Ahmad, Muhammad al-Qasabji, and Riyad al-Sunbati—wrote a large majority of pieces performed by the Arab world's most famous singer, Umm Kulthum of Egypt. However, they received little attention themselves. Until now.
Though the Arabesque Music Ensemble (formerly known as the Chicago Classical Oriental Ensemble) has produced one of the most historically-representative Arabic music recordings of these composers in recent years, surprisingly, the Ensemble's musicians are young (most in their 20s or 30s with the exception of legendary percussionist Michel Merhej Baklouk) and based, not in Damascus, Tangier, or Cairo, but in various cities throughout the United States; many of them raised here. Though they are highly-educated, well-practiced, and not in complete disregard of popular culture (some ensemble members have recorded with Shakira and Beyoncé), they made a conscious (and sometimes painful) effort to re-create the music as authentic to the era as possible.
To get this unadulterated sound, the group recruited the great Syrian-born 75-year old singer, ustaz (professor) Youssef Kassab, who five decades ago performed and recorded with the Syrian National Orchestra, when the three composers highlighted on the new album were still alive. Kassab meticulously transcribed the compositions—some of them rarely reproduced in decades—from old recordings, and became a conduit between these historic composers and the young musicians. But Kassab's greatest contribution was unexpected, and only emerged after the recording was ready to be mastered.
"We recorded the entire instrumental portion of the album and played it to Youssef for his final approval, before sending it to the pressing plant," explains Moroccan-born qanun player Hicham Chami, the founder of the Ensemble. "He listened from beginning to end, very calmly, without a hint of reaction. Finally, when it was over, he said, 'That's good, very good, the playing is tight, but it's not traditional.'" What followed was a painstaking process of re-recording the entire album, with utmost attention paid as much to recreating the era's style, as to masterful performances. In spite of their own musical dispositions, Chami and ensemble allowed themselves to become "instruments" for Kassab. In the process, they established the foundations of a bridge across generations; something on the verge of being lost.
"He made me re-approach my entire playing," says Chami, who is known for his mastery of intricate techniques on the qanun. "It was very challenging and demanding. And it wasn't until late in the recording sessions that I started getting it. I really started hearing myself differently. I started to understand what was in Youssef's very experienced mind. I gained more in those few days in the studio with him than I have gained in over twenty years of classes with other master musicians!"
The same thing happened with violinist Hanna Khoury and cellist Kinan Abou-Afach. "Youssef thinks in terms of the 1930s sound, where you might only hear one instrumentalist," says Khoury. "Consistent with the era, Youssef emphasized the importance of the vocalist, so we had to bring the instruments way down. He told us, 'When you are accompanying me, I want eighty percent less of what I am hearing.' And 'I want just one instrument accompanying my voice.' It will never get more authentic than this."
This was the ideal approach for such homage to these three composing heavyweights.
"We come from a tradition where usually the singer gets all the credit," explains Chami. "And many people forget that behind the singer is a person who put the music together. In this case, they were very talented composers. Many composers who contributed significantly to the canon, including Zakariyya Ahmad, died penniless."
While Ahmad's compositions were heavily inspired by Sufi chant, recitation of the Qur'an, and sacred incantations, al-Qasabji and al-Sunbati were part of a movement that had one foot in tradition and another in something new, with a bit of Western influence. But this hybridization is not what it seems on the surface.
"After decades of colonization by the Ottoman empire, Egyptian musicians used Western characteristics to merge their traditional sounds with what was going on in other parts of the world," explains Dr. George Sawa, an independent scholar of Medieval Arabic music history and author of the Three Musketeers liner notes. "The provinces had been kept very separate by the Turks and missed a lot of modernization. So when France and England came along, it was a chance to connect with the larger world. And that affected everything from education and poetry to art and music."
While three of the compositions (tracks 1-3) have been recorded in recent years, they have not been recorded with such traditional playing accurate to the era. Three of the compositions (tracks 5-7) have not been recorded since their original records. The remaining track (4), says Chami, "is so difficult to record, few have tried."
"As far as the whole theme—'composers first!'—this has almost never occurred in the Arab world," says Khoury. "It's always the performers first—and the composers? Almost nobody has heard of them. People always know these songs by their performers. But think about Western classical music: Mozart, Beethoven. This music is still alive, long after the person who first performed it is gone. We have to do the same thing to maintain this tradition. This music doesn't have to die because Umm Kulthum died."
"Back home in Egypt and Syria, good traditional singers starve while most modern composition has more to do with half-naked women dancing to very bad music," says Sawa. "The 1930s and '40s in Egypt was the most sophisticated era for this music. Umm Kulthum surrounded herself by the Three Musketeers, as Egypt came to call them. I feel so depressed about the state of music today, that it gives me great pleasure to know that these young musicians are bringing such composition back to the spotlight."