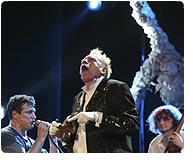 A Little Bit of Moscow Soul in The Village: John Medeski and Marc Ribot Get Edgy on Long-Awaited Auktyon Album
When Russian bohemian-rock band Auktyon plays in the U.S.A., they usually don't alert their émigré fan base. As underground icons back home, expats here show up in droves ready to hear (and sing-along with) the songs that marked the glasnost era. The band stood out for not creating music to accompany the unrest in the streets, but by pre-announcing an era where art and music could be created for its own sake, not inherently subject to, nor protesting, politics. They became known for their innovative music and bouncy stage presence. But once everyone showed up to concerts for nostalgic reasons, it was no longer fun to play. So when they came to tour the United States, Auktyon wanted to play for new audiences.
Auktyon has been coming to the USA for about a decade to develop new audiences and open new doors. Always receptive to new possibilities, when they played a New York global music festival called globalFEST, they found new inspiration leading to Auktyon's first studio album in twelve years. The album, titled Girls Sing, features the funk/jazz organ of John Medeski and the avant/eclectic guitar-work of Marc Ribot.
Always the connector, Klezmatics trumpeter Frank London was taken with what he heard and saw at the NYC festival and enthusiastically put Auktyon in touch with the other guest artists. London also makes an appearance on the album. Also at the festival was producer and musician Andres Levin, of Yerba Buena fame, who helped the band find a New York studio and recording engineer, quite a feat for an album made with twelve cramped musicians recording live. The new context and collaborators sparked Auktyon's imagination.
"They're punk rockers with a kind of surrealist edge," says Ribot, who along with Medeski went on to perform with Auktyon in Moscow and St. Petersburg. The two guests joined Auktyon in the New York studio after the Russian band had carefully crafted an album's worth of new material. But the band wanted fresh and raw additions by Ribot and Medeski. "The band has a very strong energy, both live and in the studio," says Ribot. "Some bands work very carefully in the studio building a track up. This band creates this big monster in the studio."
"I think that in all previous recordings," explains lead singer and songwriter Leonid Fedorov, "I was striving towards intricacy and now I have managed to turn off my brain. The 20th Century gave us an ability to improvise; it's a freedom as well as a responsibility. I think, that the 20th century also destroyed the concepts of great composers, poets; all grandeur. In reality there is no grandeur. All reflections on the subject of the eternal nature of art in reality are made up fetishes; sooner or later they disappear."
The band's live performance also has a monster-like quality. "They've got a guy on stage who just kind of gestures," Ribot describes. "It's a very primitive form of theater. You're always wondering, 'What's he going to do next?'" Deliberate disintegration of beautiful melodies into a cacophony. On-stage clowning around and the occasional scream. All of it is an attempt to break down the walls between performer and listener. Auktyon does not take themselves too seriously. They are not full of themselves. And Ribot and Medeski took note.
"They're one of those bands that are really deep, really brilliant," says Medeski. "They know a lot of different music and literature, yet when they play, they play from their hearts, their souls, their balls. They're not too intellectual. I love music from someone that's done a lot of studying and then lets it rip when they play."

"Their rhythms are kind of crazy," recalls Medeski. "Some things are based on Russian folk roots rhythms. So we had to figure out where they were coming from. But I found that I just relate to their spirit. It fit like a glove for me."
Ironically some of the band members of Auktyon were apprehensive about working with Medeski and Ribot. They were not sure what to expect, but they knew the two musicians were heavyweights. Fedorov didn't mind his band mates being a little scared. He was hoping the emotion would mobilize them to create something fresh. Drummer Boris Shaveynikov didn't believe Medeski and Ribot were really recording with them until the final moment. As a Led Zeppelin fan, when he realized Ribot had played with Robert Plant, Shaveynikov was ready to get down to business.
Medeski's and Ribot's playing on Girls Sing surprised some reviewers in Russia, who commented that they were juicy and edgy, even vulgar, and noting that Auktyon would not play that way on their own. "We are simply afraid of it, since we don't have the same musical or emotional experience Ribot and Medeski have," says Fedorov. "Everything on the album is primitive in its essence; anybody could do it. But we would never think of playing that way; not because we are worse, but because this is embarrassing to us. But these people are free as musicians. That's how they play. And that gave us courage."
Auktyon's lyricist and keyboard player Dmitriy Ozerskiy once stated that Auktyon is the only band able to play a funeral march happily. But Federov points out that they are not theatrical for the sake of farce. "Theatrics are even a part of what Bach wrote," he says. "I try very hard to get away from it, but still end up doing something theatrical. Because all non-theatrical music stinks of boredom, and that is even worse."
"I made extremely simple songs; simple in their structure," says Federov. "There are a maximum of two chords there. I have always believed that complicated music has to be played simply."
Nobody in Auktyon knows how to notate music on paper. With limited studio time, Federov would play the melody for Ribot and Medeski. At one point, Ribot was hurriedly writing down the music, but what came next surprised Auktyon. "Ribot took all this time to write down the music," says Federov, "and when we recorded he started to play something completely different. But it fit in perfectly."
Ribot jumped at the chance to work with Auktyon, not only because he liked their approach, but because he feels an affinity with Russia. "Moscow is the only place that reminds me about the things I like about New York," says Ribot. "It's not exactly coincidence. A whole lot of The Village was created by people who at one time or another were involved in some part of Russia or the Soviet empire. Yet I didn't expect it. There is something about the way people hang out in a bar late at night in Moscow and make cynical comments and aren't ashamed to be depressed. They drink to get real; looking for the moment in which something has some soul. That's what I like about Auktyon: they have soul," concludes Ribot.


(Girls Sing will be available for purchase through iTunes, Rhapsody, and Amazon MP3.)