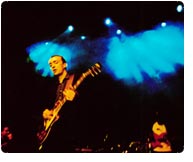 Desert Sand in Your Mouth, Gritty Guitar in Your Soul

Justin Adams' Desert Road Released by World Village
After twenty years playing the guitar in Europe, Africa, and the Middle East, Justin Adams found himself with three weeks with nothing to do. So he retreated to his bedroom, closed the door, and conjured images of Tuareg wanderers, ancient Gnawa slaves, and solitary nomads crossing the Sahara and Gobi deserts. He sang about their journeys with a rawness and simplicity usually reserved for great blues musicians. Multi-tracking his own hypnotic beats, wailing guitar riffs, and soaring voices, Adams created Desert Road (July 9, 2002 release, World Village), his first solo album. But these were not ghosts of his imagination.
The son of a British Ambassador, Adams grew up in Jordan, Lebanon, and Egypt. There he absorbed myths about harsh journeys and desert wildernesses that fueled his lyrics. As an adult, Adams played eight years with Jah Wobble's Invaders of the Heart. He has produced two albums for the French band Lo' Jo, composed several film soundtracks, and worked with Sinead O'Connor, Natacha Atlas, Brian Eno, Peter Gabriel, Billy Bragg, Robert Plant, and U-Cef. Robin Denselow favorably described him in The Guardian (UK) as "Britain's answer to Ry Cooder."
In 1999, Adams came into company with some Tuareg musicians in Mali. He says, "In a sense for me it is not that geographical thing with Mali: it's the deep power of the music there. That's what I am looking to find in music" (Rhythm magazine). He harnessed that power in 2001 by teaming with members of Lo' Jo to produce Le Festival au Désert, or The Festival of the Desert in Mali's northeastern Sahara. Another co-producer and performer at the Festival was Tuareg guitar band Tinariwen, whose debut CD will be released by World Village in October 2002. The festival created a mystical presence for all in attendance and was even able to smooth tensions between the independent, nomadic Tuaregs and the Malian government, who have a fierce history of fighting. Here Adams renewed his passion for music and its ability to ease the pain of daily life.
Adams bought a n'goni, a three-stringed African lute, in the Malian capitol of Bamako. This n'goni inspired the creation of Desert Road. Its sound, which reminds Adams of legendary acoustic blues musicians, supports him as he sings of hardship and despair. Its dry, hungry tone beams images of golden sand dunes, wind-blown trails into the listener's mind. When surrounded by the guitars, keyboards, bendir, other percussion, and Adams' low, gritty voice, the n'goni turns Desert Road into a musical mirage.
Desert Road plays like a little picture book. It's drawings recall suntanned American cowboys walking across the frontier, Brazilian vaqueiros camping in the sertao, and Central Asian nomads looking out onto seamless horizons. It speaks to the inner longing felt by anyone who has contemplated the bittersweet pangs of solitude.