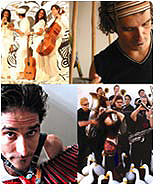 Trouble Worldwide: A Boundless World of Music

A Night of Transplanted Revelry at NYC's New Gypsy Club Drom
There's a crisis of identity worldwide. Everyone comes from somewhere and as the "somewheres" get closer a cultural nutshell game ensues. Musicians identify with their birthplaces, their ancestral homelands, their neighbor cultures, their "host" traditions, and emerging global ways of life. San Francisco agency Trouble Worldwide—started by Greek-Albanian-Spanish-Egyptian-Brazilian music industry veteran Alexandra Casazza—presents four bands with hybrid identities for a night of transplanted carousing January 11, starting at 8 pm, at Drom, NYC's new club dedicated to the Romani (Gypsy) ethos of fearless creativity and global citizenship.

Rana Santacruz
Born in: Mexico City, lives in Brooklyn
Sounds like: Irish Mariachi, The Cure meets a "Tambora" band, Tortilla Bluegrass, The Pogues with Tequila, Jose Alfredo Jimenez meets Beirut, Chavela Vargas meets Manu Chao.
Heritage: "My hair is brown but my sideburns and beard grow red. I know my blood must be a mix of Aztec, Spanish, and French but somehow I'm sure the red sideburns come from Ireland. I've always felt attracted to Irish culture and music."
The accordion: "My friend invited me to live at his grandparents' house when they died. It was big and interesting, and we left the decoration just as it was: big piano, knight's armor, pink chandelier, red velvet… It reminded me of the Mauricio Garces movies (Mexican actor from the 70s). Among the dusty curiosities I came across his grandfather's accordion and I fell in love with the sound immediately."
The Sailor Songs: "I started writing the sailor songs before I came to New York. I wanted to live abroad. I felt excited about the idea, but was also scared and sad to leave the people I loved. I felt paralyzed. Then my grandfather took the greatest trip of all: passing away. I was there to say goodbye and wished him farewell. Somehow I understood better the concept of seeing death as a trip, a new adventure. In a few nights my grandfather came to me in a dream. He told me to let myself go; to pack my things and not be scared to live my own new life. That's what these sailor songs are about: the courage and excitement of new adventures and the sadness and nostalgia of saying goodbye."
Ramiro Musotto
Born in: Argentina, lives in Salvador, Bahia, Brazil.
Sounds like: Berimbau (Brazilian single-string percussion instrument) meets electronica.
Musical influences: The cheap speaker of a botellero (donkey-driven junk collector) calling for donations; the Xavantes warrior tribe (""Their incredible music fascinated me, and when I found this rare recording, I spent two years working on the track. When I contacted the tribe, they asked me to personally show the result of my work to a chief that lives in Sao Paulo. He loved it, but it took over a month to get the blessing of the tribe's most important chiefs and spiritual leaders."); the Afro-Brazilian cult of Candomblé; the Brazilian dance-martial art called capoeira.
He calls his music: "A psychedelic trip throughout and into the Afro-Brazilian and South American culture; an optimistic way of interpreting the effects of technology in our everyday life and art."
Has played percussion with: Daniela Mercury, Caetano Veloso, Gilberto Gil, Marisa Monte, Sergio Mendes, and Carlinhos Brown.

Rupa and the April Fishes
Born in: the San Francisco Bay Area and raised in California, France and her ancestral India (Rupa, that is)
Sounds like: Paris Combo mixed with Susheela Raman and Lila Downs.
Languages sung: French, Spanish, English, Hindi, Roma.
If she were a movie: "…she would be Amélie meets Women on the Verge of a Nervous Breakdown meets Latcho Drom meets Do the Right Thing. She'd be set in India and Berkeley...She would be (and, in fact, is) an instant cult classic among the smart, idealistic, international set." – Hiya Swanhuyser, SF Weekly
About crossing borders (and her song "Poder"): "The song is about what can and can't cross the border. It's so natural for things to move and flow without restriction. We went to Tijuana where the border goes into the ocean. And it was one of the most unnatural things I have ever seen in my whole life. There was all this life and excitement on the beach on the Mexican side. Then crossing over into this no-mans' land, this demilitarized side… It seemed so wrong."
About her dual career as musician and doctor: "I make music and I take care of people. When I was going to med school, all my friends said you have to choose, you have to pick. Are you a doctor or an artist? I never felt like I could say I'm all this or all that. It's such a privilege to be a doctor. And to be with people in moments you don't normally get to see. All the guises are stripped when someone is right about to die. A lot of my music feels like it derives its heart from these vulnerable encounters with people. Taking care of people is such a deep inspiration for so many things, but especially music."

Slavic Soul Party!
Born in: lots of places, but mostly New York area
Sound like: Monster brass band from New Orleans to former Yugoslavia.
Mobile acoustic sound system: "The fact that you can move with people literally from the altar to the reception, from the graveyard to the house, from the street to inside the club…. That whole thing is incredibly powerful and speaks to people in a whole different way. There is no technological barrier, no distance between musician and audience. The very nature of the band says, 'We are with you.' In this day and age, powerful acoustic music can be inherently subversive," says band leader Matt Moran.
Americans playing this music: "As Americans, everything we play is subtly different. We have aspects of hip hop in our sound. We have some unique pulsating grooves and low brass and use more space than a band from the Balkans. Many of us are jazz musicians, so our soloing might come less from the maqam side of things and more from the jazz side. Half our tunes are original and we play a lot of tunes that are American, gospel, or from the New Orleans second line tradition. I call what we do 'neighborhood music,' not 'world music,' because of the influences of our neighborhoods" says Matt Moran.
Details
January 11, 2008
7 pm doors open
8 pm Rana Santacruz
9 pm Ramiro Musotto
10 pm Rupa and the April Fishes
11 pm Slavic Soul Party!
Where: Drom, 85 Avenue A, between 5th and 6th streets, NYC
Ticket price: $12
Purchase tickets: 212-777-1157