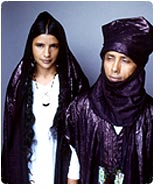 A Bucketful of Thirst Quenching Trance: Tuareg Nomad Rockers Toumast Debut on Real World
Moussa Ag Keyna took a bullet in the violent freedom struggle of his Tuareg people, after putting his band Toumast on hiatus in order to serve in combat. From the start Toumast was a group that took the trance side of the Saharan Tuaregs' traditional music and merged it with desert blues on electric guitars—and Moussa had plenty to sing about: the difficult life of the desert, living in perpetual exile, droughts and famine, and the Tuareg people's liberation fight with the armies of Mali and Niger. He'd always sung in daily life, like most Tuaregs. But after being injured in armed conflict "...was when I started to make music," says the lead singer and guitarist. "I said to myself, 'There was a time when I wanted to fight with my gun. Today I have to fight with my new weapon: my guitar.'"
Real World Records will issue Toumast's debut, Ishumar, in the USA on March 14, 2008 (Ryko Distribution). The album title comes from a term borrowed from the French "chômeur," meaning unemployed, which was widely used in the 1970s and '80s to describe the many young Tuaregs displaced by drought to Libya and Algeria, in search of work. The album's soul comes from the music of the original Tuareg musical rebels, Tinariwen—Moussa's heroes since the age of thirteen. Its edge comes from Jimi Hendrix—to whom he refers with a smile as "my prophet"—and from Albert King, B.B. King and Ali Farka Toure, whose music Moussa also heard for the first time during his recuperation in Paris. Toumast has a potent female presence as well, in Moussa's cousin Aminatou Goumar, who also plays electric guitar and sings, and contributes her distinctive Tuareg ululation.
As a child, Moussa was strongly affected by not only the music, but the words of Tinariwen. "They made me want to get involved in the Tuareg fight," he remembers. "I felt concerned, even though I was only thirteen years old. I left when I was 15 to join them in the military camps where they trained. Tinariwen's lyrics were representative of the collective fight in these camps. It was a collective poetry and creation. Fifteen thousand people sharing the same poetry and the same fight."
Moussa completed his military training in 1990, bought a guitar, and formed Toumast with a few friends and cousins. But everything was put on hold soon after when war broke out and Moussa left to fight. He found himself in France after his war injury and, in 1995 when his rebellion chief uncle was assassinated, "it gave me the rage to get into music again," he explains. "I wanted to keep on the fight in a nonviolent way. Music was a good way to pass on the message." After being away from his tribe for 17 years, after a public reconciliation and declaration of peace, Moussa met Aminatou in 2001.
"The role of women in Tuareg society is as important, even more important, than men," says Moussa. "In the beginning of the 19th century women were the heads of the Saharan army. In music, women play the instruments and sing. Men dance and ride camels to make them dance. There is a big tolerance between men and women, a real equality, which I did not feel existed in France when I arrived here. I did not have the feeling people were as open."
Toumast seeks to raise awareness of the Tuareg plight and their desert culture. "We want people to understand what the Tuareg people have been through and are still suffering from, as it is still going on... Since the end of colonialism in 1962, the Tuareg people have been asking for recognition. The Tuareg are divided between Niger, Mali, Burkina Faso, Algeria, Libya, and not one of these countries will take any responsibility. We would like to be free to travel. Tuareg people get chased by the governments of these different countries who are eager to benefit from the resources that are in the Tuareg territories: uranium, petrol, gold," exclaims Moussa.
The band's name Toumast means 'identity', explains Moussa. "I chose that name because I was part of the Tuareg rebellion, where everything we did was for the Tuareg identity. Our music was created in order to give existence to our identity."
'Kiki Ayittma,' which means 'Hey Brothers!,' is a song about not forgetting the causes they left behind. 'Maraou Oran,' or 'For Twelve Moons,' was composed for twelve friends and cousins who had been members of Toumast who were killed during the war. 'Ezeref' was the name of Moussa's camel. "I composed the song when I was feeling a bit homesick in France," says Moussa. "My camel is still alive! Each song has a story," he says, pointing out that they translated all the lyrics into English.
While the desert is dry, it is rich in musical tradition. Toumast brings the trance style of the Sahara on the rock stage, inviting newcomers to listen. "The Tuareg people have a really strong sense of welcoming others," explains Moussa. "Doors are always opened, and the stranger is welcome. There is always a bucket full of water—the most precious good—waiting and ready in front of the tents for strangers to help themselves."